Toshiba Electronics Europe (TEE) has announced two starter kits that will speed the development of web applications using the Toshiba TZ5000 Application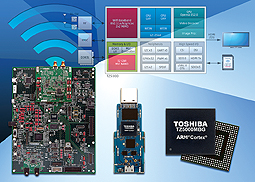 Processor Lite (ApP Lite™) series. By providing various drivers for rich Internet applications using HTML5, the RBTZ5000-2MA-A1 and RBTZ5000-6MA-A1 starter kits enable users to easily introduce embedded development environments – and thus speed time to market – for IoT (Internet of Things), streaming media and other content-rich consumer devices.
Both kits feature processors with a dual-core ARM® Cortex®-A9 MPCore /ARM® NEON™ CPU with Bluetooth® 4.0 connectivity and an embedded IEEE802.11a/b/g/n/ac 2×2 MIMO baseband engine for WiFi® connectivity. Both provide drivers for video playback using Wireless LAN and HDMI® output, with the RBTZ5000-2MA-A1 on Ubuntu® Linux®, and the RBTZ5000-6MA-A1 on an Android™ 4.4 platform.
The RBTZ5000-2MA-A1includes a general-use board with expanded I/O for various peripherals, such as cameras or microphones. The RBTZ5000-6MA-A1, developed for transmission of audio, video and other media for streaming delivery, features a stick-type board suitable for streaming media devices. In addition, by incorporating various optional units, the kit enables improved development efficiency for a broad range of devices targeting the fast-growing IoT market.
Introduced in February 2014, the Toshiba TZ5000 series are application processors integrated with NAND flash memory and are baseband engine compliant with the next-generation high-speed wireless LAN standard IEEE 802.11ac. The product line combines high-speed wireless LAN features capable of delivering high-quality movie experiences with NAND flash memory in a single package to enable user programs and large-volume data to be kept in temporary storage. The reduced number of parts and decreased footprint make it suitable for small-form-factor designs.
The TZ5000 ApP Lite starter kit samples will begin shipping in October 2014.
Toshiba Electronics Europe (TEE)
www.toshiba.co.jp/index.htm