Sundance Multiprocessor Technology, a pioneer in scalable and modular computing modules for embedded solutions, has launched the SMT166 dual-FPGA platform for R&D into the use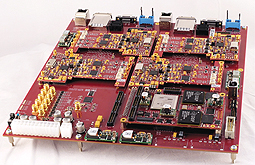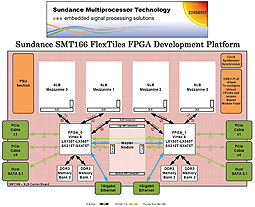 of large FPGAs for high-performance reconfigurable computing and large-scale embedded systems applications as well as system-on-chip (SoC) simulation. At the same time, Sundance has announced that the SMT166 has been chosen as the prototyping platform for the European Union's FP7 FlexTiles 3D SoC project, placing it at the heart of leading research into self-adaptive, high-performance computing.
Headed by Thales Research & Technology, The EU FP7 FlexTiles project is focused on the challenge of leveraging multicore technology to develop energy-efficient, high-performance compute systems. The project will define and develop a programmable, heterogeneous, many-core 3D SoC architecture. The many-core layer, which will integrate GPP and DSP cores, will be associated with an innovative, reconfigurable virtualization layer, featuring a self-adaptive FPGA fabric in an interchangeable tiles concept; and a dedicated tool-flow to improve programming efficiency, reduce the impact on time-to-market and reduce the development costs by 20% to 50%. Sundance's SMT166 will be used initially to develop, validate and verify the tools to create the FlexTiles 3D SoC. Subsequently, users will be able to utilize the SMT166 as an R&D platform to innovate and prototype products based on the FlexTiles 3D SoC. The SMT166, which can be integrated into a standard 19 inch rack, is designed around two Xilinx Virtex-6 FPGAs.
Sundance Multiprocessor Technology
www.sundance.com