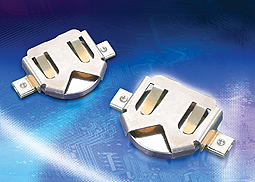 Harwin, the leading hi-rel connector and SMT board hardware manufacturer, has expanded its range of EZ BoardWare products with the introduction of a single piece surface mountable coin cell holder which ensures coin cells are securely retained in place while cutting assembly time. EZ Coin Cell Holders can accommodate 12.5mm diameter x 2.5mm thick BR1225 and CR1225 coin cells and are available in Tape and Reel packaging making them ideally suited to automatic placement systems.
Low profile EZ Coin Cell Holders provide a cost effective solution to the problem of battery mounting. Coin cells are securely held in place, yet they can be quickly and easily removed when they run down.
Manufactured in phosphor bronze and tin plated, the clips employ a twin beam contact system, resulting in a mechanically strong product. Comments Product Manager, Paul Gillam: "EZ Coin Cell Holders enable companies to reduce manufacturing costs while achieving a very secure solution. The product will suit most markets, with typical applications including on-board power supplies to drive memory circuits".
Harwin Europe
www.harwin.com