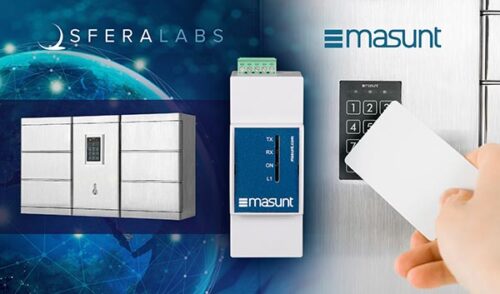 Germany-based Masunt, a specialist in innovative electronic storage products, has deployed Sfera Labs technology to automate the hand-over of keys in its latest family of robust and secure compartment safes.
From the hospitality industry and the rental market to secure industrial environments, electronically operated, multi-compartment safes are deployed to allow authorized users access to keys as and when they need them. Masunt is a German based developer of key safe solutions and its latest safe, the 3122 Online Compartment Safe, represents the 'state-of-the-art' for such technology.
Suitable for outdoor use and featuring a robust stainless steel body, the 3122 has 12, independently controlled compartments that are large enough to securely store even the largest of hotel keys. Access control can be managed via an app or a web portal with options for key collection including numerical code and RFID. The software gives time-sensitive access to specific individual safe compartments and an audit trail records details of every event including when the compartment has been opened and by whom to ensure full traceability.
At the heart of the Masunt 3122 is a Sfera Labs Strato Pi CM server with embedded Raspberry Pi CM4S, which provides complete control over remote configuration and local access to the 12 compartments. This powerful and compact server is targeted at industrial and professional products where reliability and service continuity are prime requirements.
Indeed, the reliability of the Strato Pi CM was one of the key reasons that Masunt chose to use this module. The unit is housed in a compact, standard industrial 2-modules wide DIN case. Compliance with the low voltage and EMC CE and FCC directives and harmonized standards for electromagnetic compatibility, electrical safety and emissions simplified the approval process for Masunt's engineers.
In addition, the module features a hardware watchdog that can automatically reset the processor and perform a hardware restart in the event of a software issue – an especially important feature in applications that may be unattended or need to work continuously – such as compartment safes.
"With new security challenges, the demand for accessible and reliable control systems has risen significantly at a rapid pace. Due to the increased demand of our customers, we started incorporating Sfera Labs Strato Pi CM module into our products. With its high performance,  reliability, low power consumption and various protection features, it is an ideal solution for outdoor applications," said Markus Schacht, co-founder of Masunt (Resatur GmbH).