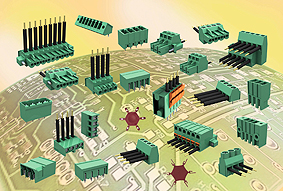 Ispringen (Germany), June 21, 2011
FCI has expanded its terminal blocks product portfolio with additional PCB fixed configurations, power pluggable and spring contact products, all ideal for industrial and instrumentation applications. The products are available now at distributor Rutronik.
The new product line includes fixed PCB connectors, vertical and angled wire-inlet as well as two-level horizontal wire inlet; a power pluggable version on 10.16mm with a current rating up to 55A; spring-contact pluggable and fixed versions for quick and easy installation; UL and VDE certifications. With these additions FCI provides the most complete range of standard EURO-style terminal blocks in the industrial and instrumentation market.
Contact at Rutronik:
Volker Buchmann, Merketing Director Electromechanical Components
Ph: +49 7231 801-0
volker_buchmann@rutronik.com
Rutronik
www.rutronik.com