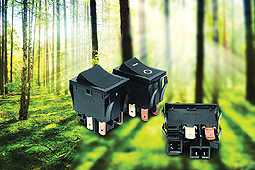 Omron Electronic Components Europe has introduced the industry's smallest remote-reset rocker switch supporting zero-standby power design. The new switch is a great asset in implementing systems that meet or exceed the requirements of the European Commission ErP Ecodesign directive.
The new Omron A8GS is the smallest rocker switch with a reset function on the market, and is offered in a version with a delayed-off feature to support safe system shut-down. It is ideal for use as a power switch for a whole range of industrial and consumer electrical applications, featuring high inrush current durability conforming to TV-8 standards. Omron is offering the A8GS with reset voltages of 3.3V and 5V, to support easy integration into a wide range of electronic control circuits. Versions suitable for micro load and micro load/high capacity applications are also available. The A8GS features a contact gap of 3mm. it is UL and cUL standard approved and conforms to EN standards. Innovative design has enabled Omron to reduce the size of the new switch to just 30mm x 17mm x 28.5mm, less than half the size of its existing non-resettable equivalent. Omron is also offering the A8GS-T, featuring a delayed off function to allow safe shut down of electrical equipment. With this switch, the power to the system is maintained when the switch is returned to the off position. The system is then powered down by an external signal after an interval determined by the designer. This prevents issues with data loss or circuit damage through forced power off by the user, and can help safer application design. The A8GS-T shares the specifications of the standard A8GS.
The European Commission ErP Ecodesign Directive is the most important initiative by the EU to improve energy efficiency by 20% by the year 2020. It aims to reduce the environmental impact of energy-related products* (ErPs), including the energy consumption throughout their entire life cycle. It specifies that the power consumption of equipment in any off-mode condition shall not exceed 0.50W. In Standby Mode, consumption should also not exceed 0.50W, unless the equipment has a status display in which case 1W is permissible.
Omron
http://components.omron.eu