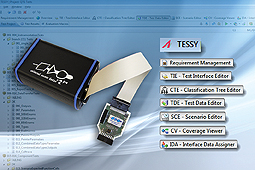 Programmierbare Logik & Systeme and Razorcat now present a whole range of optimized, so-called Tool Qualification Packages (TQPs) for the TESSY test platform for various architectures and cross compilers. These TQPs will in future allow embedded system developers even easier and more reliable automated testing of application software written in the programming language C.
Razorcat's TESSY platform contains all necessary functions for automated testing, starting from automatic analysis of the source code of the software for identification of the test objects (typically C functions) to Classification Tree Editor (CTE) and Test Data Editor (TDE) for specification of the test cases through to automatic implementation of the testing and producing the test result reports. By coupling with the Universal Debug Engine (UDE) from PLS Programmierbare Logik & Systeme, such automated tests are possible directly on the associated application hardware.
The complementary Tool Qualification Packages that are now available consist of various documents and test procedures, each based on a standardized application, which enables continuous testing of the tools involved on the basis of defined behavior, predetermined stimulation and known expected values. The software interface of the Universal Debug Engine (UDE), which is based on Microsoft COM (Component Object Model) technology, ensures that the testing can take place architecture-independent directly on the target hardware. The UDE, controlled by TESSY, not only takes over establishing connection with the target system, but also programming of the flash memory, process control of the application, and reading/writing program data.
PLS Programmierbare Logik & Systeme GmbH
www.pls mc.com