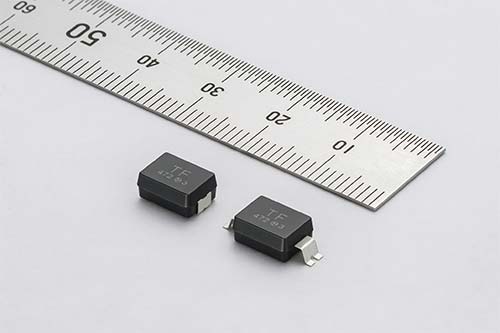 Leading electronics manufacturer Murata has today introduced multi-layer ceramic capacitor (MLCC) products that successfully draw on the company's advanced resin molding capabilities. The resulting EVA series of MLCCs have properties that will be highly appealing to electric vehicle (EV) manufacturers. Among the places where these capacitors are certain to prove invaluable are on-board chargers (OBCs), inverters and DC/DC converters, plus battery management system (BMS) and wireless power transfer (WPT) implementations.
Developed in accordance with IEC60384-14 requirements, the new safety-certified Y2 class MLCCs will be highly effective at suppressing common mode noise in next generation EVs. Housed in surface-mount packages (each with a 12.7mm x 6.0mm footprint, plus a 3.7mm profile), these compact components have 305VAC/1500VDC voltage ratings, and support industry-leading 10mm creepage distances. Consequently they are able to address the greater isolation that migration to 800V powertrains will mandate, yet also remain aligned with the need for miniaturisation in modern automotive systems.
The capacitance values of the EVA series range from 0.1nF to 4.7nF. These MLCCs are AEC-Q200 qualified, with an -55˚C to+125˚C operation temperature range covered. They have elevated withstand voltages of 2000VAC/60s and 4000VDC/60s. In addition, they exhibit low equivalent series inductance (ESL), so performance is not impaired at high frequencies. The metal terminal arrangement utilised in these capacitors provides greater elasticity. Formation of solder cracks and deflection cracks is thereby mitigated, so long-term reliability can be assured.
"With EV powertrains moving to higher voltages, longer creepage distances are now being required. Unfortunately, at the same time, constituent components need to take up less physical space," explains Takahiro Yoshida, General Manager of Ceramic Capacitor Business Unit, Marketing Group, Marketing Department at Murata. "This is why our EVA series MLCCs will have a real impact, as use of resin molding allows them to combine compactness with extended creepage."
To access more information on the Murata EVA MLCC series visit: https://www.murata.com/ceramiccapacitor/eva