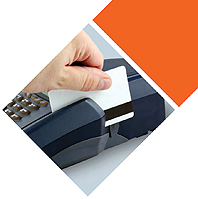 In the accelerating consumer and industrial Internet of Things marketplace, the need for enhanced performance, security and power management has never been more prevalent. With an increasing number of power hungry, graphically intense devices entering the market daily, it's clear the process for system developers is becoming more and more complex – and this is just the beginning.
In response to these growing complexities and demand from developers, we've introduced our newest family of applications processors – the i.MX 6DualPlus, i.MX 6QuadPlus and i.MX 6UltraLite – to deliver the highest levels of performance, power management and security for both high and low-end applications.
By Freescale Staff
These newest additions to our i.MX 6 series represent the most versatile platform for multimedia and display applications to date, providing newfound performance to the seamless next generation user experience of an evolving and highly dynamic Internet of Things. With this expansion, system developers can now leverage Freescale's power management integrated circuits (PMIC) along with pin compatibility and scalability across the i.MX 6 series.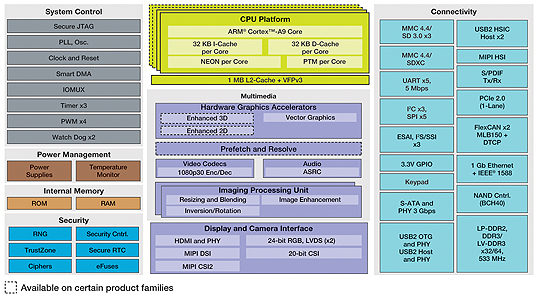 Visually Stunning Solutions for High-end, Multi-market Applications
The i.MX 6DualPlus and i.MX 6QuadPlus are based on the ARM® Cortex®-A9 core and build upon the solid foundation of i.MX 6Dual and i.MX 6Quad processors by more than doubling the graphics performance and improving memory utilization by more than 50%.
i.MX 6DualPlus and i.MX 6QuadPlus are part of our growing line of multimedia and display focused products that offer high-performance processing with a great degree of functional integration for intense, feature-rich graphics that can handle additional power requirements.
Key Features of the i.MX 6DualPlus and i.MX 6QuadPlus
• Each processor provides a newly optimized 64-bit DDR3/LVDDR3/LPDDR2-1066 memory interface to increase bus bandwidth.
• Embedded SRAM has been increased, while pre-fetch and resolve engines have been added to increase efficiency.
• These processors come equipped with hardware enabled security features ideal for secure e-commerce, digital rights management, information encryption and secure software downloads.
• TrustZone® architecture – including security extensions in the Cortex-A9 cores as well as generic interrupt controller, on-chip RAM and a TrustZone Address Space Controller – help prevent malicious security access.
• Enhanced power management enables a rich suite of multimedia features and peripherals to conserve power in both active and low power modes. The Freescale PF0100 PMIC satisfies the power required for the i.MX 6QuadPlus and i.MX 6DualPlus.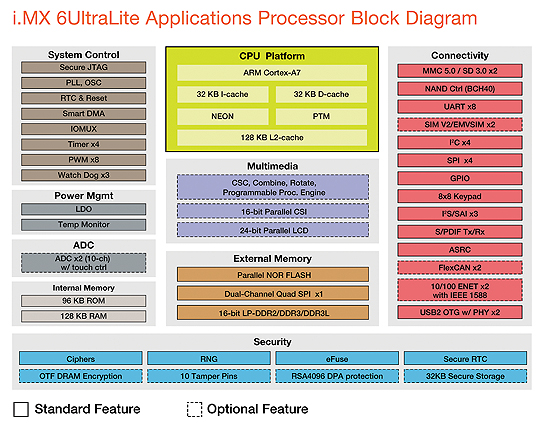 The Coolest, Smallest Cortex-A7 Microprocessor on Market
Leveraging the most energy-efficient ARM Cortex-A7 core in 14x14mm and 9x9mm BGA packages, the i.MX 6UltraLite is designed to provide rich performance in low-power for space constrained embedded applications such as financial payments, industrial Human-Machine Interface (HMI) and building control.
• Advanced power management architecture features multiple energy saving modes and dynamic voltage and frequency scaling as well as integrated power switch for flexible power gating in low power modes.
• Robust security supporting high assurance (secure) boot, hardware cryptographic cipher engines and random number generation allows peripheral and memory access requests to be hardware-verified, providing secure isolation and system resources tainting prevention. Hardware tamper detection and an integrated on-the-fly DRAM encryption/decryption engine make the i.MX 6UltraLite among the most secure ARM Cortex-A7 microprocessor solutions available.
• The i.MX 6UltraLite is designed for streamlined integration and connectivity and is optimized for ease-of-use and faster time to market. It offers great functionality at a competitive BOM.
• The i.MX 6UltraLite is supported by Freescale's recently announced PF3000 PMIC and other low cost power supply solutions including discrete circuits are ideally suited for the lower end Cortex-A9 and Cortex-A7 based i.MX 6 series of applications processors.
The current developer requires efficient, power performing tools that work within the constraints of their devices. The i.MX 6DualPlus, i.MX 6QuadPlus and i.MX 6UltraLite were designed with Internet of Things developers in mind to deliver the highest levels of performance, power management and security possible. With this latest announcement, our i.MX family of processors continues its legacy of innovation – a testament to Freescale's foresight in solving the design challenges of tomorrow by empowering engineers to build our world of a dynamic Internet of Things today ■

Freescale Semiconductor
www.freescale.com