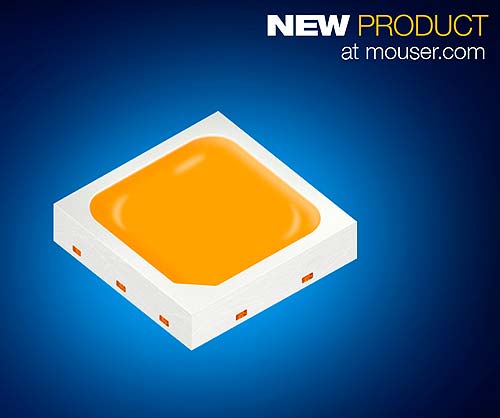 Mouser Electronics, Inc., the authorized global distributor with the newest semiconductors and electronic components, is now stocking Osconiq® S 3030 QD LEDs from Osram Opto Semiconductors. Utilizing Quantum Dot (QD) tunable light conversion technology, these mid-power LEDs are designed for area lighting and downlight applications that benefit from high efficacy and excellent color rendering.
This product is Osram's first LED to feature QD technology, which delivers outstanding efficacy, even at high color rendering indexes (CRI). It enables Osram to begin to close the efficacy gap that exists between CRI 80 and CRI 90 LEDs today. Another unique feature of the Osconiq S 3030 QD is the QDs are encapsulated to protect them from moisture and other external influences that pose the greatest risk to the functionality of an LED.
Osram Osconiq S 3030 QD LEDs, available from Mouser Electronics, offer illumination color options of warm white or cool white (2,700 K to 4,000 K) with a minimum CRI of 90. The LEDs' innovative QD phosphor solution enables CRI 90 to achieve an outstanding efficacy value of 173 lm/W at 3000 K, a best-in-class value for 0.2 W high-performance LEDs. The devices can withstand up to 8 kV of electrostatic discharge (ESD) voltage according to ANSI/ESDA/JEDEC JS-001 (HBM, Class 3B).
The Osconiq S 3030 QD LEDs are housed in a compact 3 × 3 mm surface-mount package and offer a wide 120-degree beam angle at 50 percent luminous intensity. The LEDs feature luminous flux of 31 lm at 3000 K with a forward voltage of 2.75 V, forward current range of 10mA to 180mA, and an operating temperature range of minus 40 to 100 degrees Celsius.
To learn more about lighting trends and product information, visit Mouser's Lighting Applications site at www.mouser.com/applications/lighting.
To learn more about Osram Osconiq S 3030 QD LEDs, visit www.mouser.com/osram-osconiq-s-3030-qd-leds.