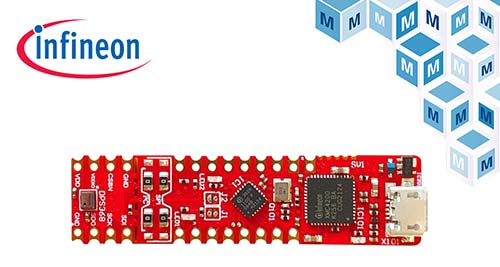 Mouser Electronics, Inc., the authorized global distributor with the newest semiconductors and electronic components, is now stocking the DPS368 and DPS310 Kit2Go sensor development kits from Infineon Technologies. The two kits feature XENSIV™ barometric air pressure sensors with integrated temperature sensors designed for Internet of Things (IoT) and embedded systems. Offering high-precision sensor measurements with low power consumption, the devices support a broad range of applications including automotive, industrial, HVAC, weather monitoring, and smart home devices.
The Infineon DPS368 and DPS310 Kit2Go sensor kits, now available at Mouser, are based on the Infineon Shield2Go board, which includes a built-in XMC1100 microcontroller unit and XMC4200 debugger. The pressure sensors feature an operating pressure range of 300 hPa to 1200 hPA, and an operating temperature range of -40°C to +85°C with 0.5 Pa/K pressure temperature sensitivity and ±0.5°C temperature accuracy. The sensor development kits feature a micro-USB Type AB connector, one power LED, and two user LEDs. The devices' compact and light design allow them to be easily integrated into a range of applications. The DPS310 and DPS368 Kit2Go kits are software compatible with Arduino and their library is fully integrated into the Arduino integrated development environment (IDE), enabling quick and easy setup.
The DPS368 sensor features an environmentally resistant package and is IPx8 certified for temporary immersion of 50m for up to one hour. This certification enables the DPS368 Kit2Go to be used in harsh environments and more demanding applications.
To learn more about the DPS368 Kit2Go, visit https://www.mouser.com/new/infineon/infineon-dps368-kit2go/.
To learn more about the DPS310 Kit2Go, visit https://www.mouser.com/new/infineon/infineon-dps310-kit2go/.