Powervation Ltd., the Intelligent Digital Power™ company, announced its latest series of digital DC/DC controllers for gaming & high-performance motherboards,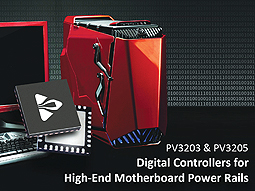 embedded computing, networking, and telecom applications. The PV3203 & PV3205 digital dual-phase controllers provide fast transient response and new features to improve power supply & system performance, while reducing overall bill of material component cost.
This new series of digital controllers provides higher switching frequency, new configurable alert functionality, phase loss fault detection, and many other new features. Additionally, these controllers provide Powervation's unique Auto-Control®, the auto-tuning mode of Powervation's leading xTune™ adaptive compensation architecture, which simplifies the design process and improves transient performance.
Designed to deliver optimized performance while interfacing with most leading MOSFET driver and DrMOS solutions, the new controllers are highly flexible and configurable, and have been optimized to power DDR memory, PCH, and other point-of-load rails in computing & communications applications. The RoHS compliant devices are available now for sample and production orders. The PowerSMART™ design tool is offered at no charge, and is available for download from the Powervation website.
Powervation
www.powervation.com