MAZeT GmbH presents their newest JENCOLOR® products for measurement tasks in the fields of color measurement and LED light.
The new products include the True Color sensor MTCSiCF for color and light measurement, the sensor signal amplifier MCDC04 with I²C interface as well as the sensor board MTCS-INT-AB4 and the Evaluation Kit MTCS-C3 (Colorimeter 3) for lighting applications. The JENCOLOR® sensors in combination with the signal ICs are an ideal match for applications with high requirement of temperature and long-term stability – such as LED lighting, color measurement tasks, industrial, medical or beauty applications as well as metrology.
True Color Sensor MTCSiCF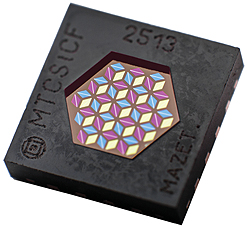 The JENCOLOR® MTCSiCF color sensor with space-saving QFN16 housing (4 x 4 x 0.9 mm) is the latest addition to the range of True Color sensors with XYZ filters. Thanks to their defined filter characteristics (standard spectral value function), these are ideal for 'eye precise' absolute color measurement, and can be used to accurately measure the colors of materials, liquids or light based on the CIE 1931/DIN 5033 industry standard. This makes measurement systems possible which can replicate human color perception and produce results which represent XYZ points in the LAB (LUV) color space. The sensor is suitable for all applications that require an optimum balance between price, size and colorimetric precision. Quality standards for color measurement and identification precision are always defined by the human eye.
Signal Conditioner MCDC04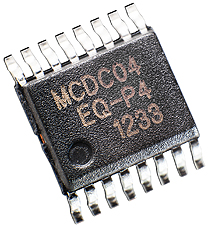 Input signal levels for light measurement need a wide dynamic range capable of covering several sizes. With its internal signal processing concept, the MCDC04 fulfills these requirements.
The programmable signal processing IC allows an input signal resolution up to 16 Bit and ensures a high degree of channel synchronization across the operating temperature range. The MCDC04 digital 4-channel current-to-charge signal converter is specially adapted to the requirements of the tristimulus JENCOLOR® color sensors.
The MTCSiCF color sensor combined with the MCDC04 is ideally suited to a variety of light measurement and control applications.
OEM Sensor Board MTCS-INT-AB4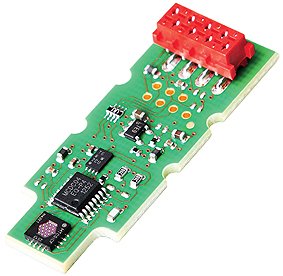 The sensor board MTCS-INT-AB4 is based on two new IC solutions, which are specially developed to solve tasks in LED lighting control – for example: feedback color control of LED light sources. The True Color sensors IC in implemented on the board performs color measurements based on the standard CIE 1931 – the human eye perception.
The signal converter MCDC04 is an analog-digital-converter (16 bit) with current-input, high dynamic range (1:1,000,000) and I2C output for direct implementation into controller-based systems. The board is an ideal OEM color sensor solution within the Luv/Lab color space with simple implementation based on the two modules on the board and an I2C interface. Therefore the OEM sensor is an ideal addition to all applications that require a high accuracy and stability of colors, even in harsh environmental conditions like temperature shifts. Examples are the calibration of cabin lights in airplanes, or the color management of backlights in displays or video walls.
OEM Sensor Board MTCS-C3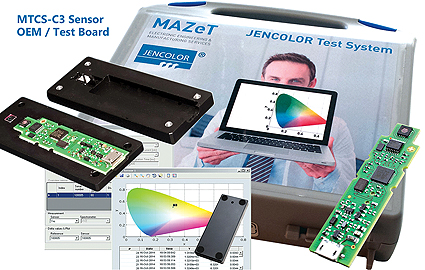 The sensor board MTCS-C3 includes the same basic components as the MTCS-INT-AB4 and furthermore includes a micro controller and USB interface. This allows the sensor board to be used as OEM sensor unit, which can directly be implemented into customer-applications – as USB plug-and-play color sensor. Example applications are calibration of displays or backlight systems, or applications such as LED tests or common light measurement tasks.
MAZeT
www.mazet.de