Integrated Device Technology, Inc. (IDT®) announced that Samsung adopted an IDT wireless power transmitter to enable wireless charging for its Galaxy smart phone.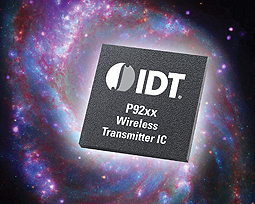 With the integration of IDT's P92xx magnetic induction transmitter in the Galaxy charging pad, Samsung joins the list of leading innovators deploying IDT wireless power technology into cutting-edge products. In addition to smart phones and accessories, IDT's wireless power transmitters and receivers have been designed into wearables, charging stations, remote controls, and furniture. The IDT transmitter supports the Wireless Power Consortium's Qi standard, and offers a high level of programmability while consuming ultra-low standby power, meeting Energy Star requirements.
IDT develops wireless power semiconductors for magnetic induction and magnetic resonance charging, supporting the three major standards groups: the Wireless Power Consortium (WPC), the Power Matters Alliance (PMA), and Alliance for Wireless Power (A4WP).
IDT
www.idt.com