Murata announced the MTU2 series of ultra miniature surface mounted 2 W DC-DC converters from Murata Power Solutions. Believed to be the industry's smallest 2W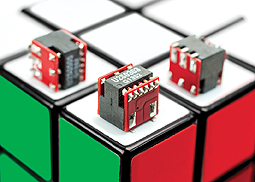 converter and measuring just 8.2 × 8.4 × 8.5 mm with a 0.69 cm2 footprint, it is 50% smaller than the current 1.67 cm2 industry standard. With a typical conversion efficiency of 85% across the full load range and a power density of 3.403 Watts/cm3, the MTU2 series is available with either a single or dual output voltage. Input voltages cover the popular nominal inputs from 3.3 to 24 VDC. Output voltage options include 5, 12, or 24 VDC. Dual output models provide ±5 or ±12 VDC. Load regulation is typically 5% better than other products available on the market, reducing the need for any additional regulation components.
The MTU2 has a 1kVDC input/output galvanic isolation that helps to reduce switching noise and allows the converter to be configured to provide an isolated negative rail in systems where only positive rails exist.
The MTU2 can operate over the full industrial temperature range from -40 to +85°C.
Murata
www.murata.eu