Distributor Rutronik offers the two new photocouplers TLP2361 and TLP2161 that combine high-speed communication with transfer rates up to 15Mbps and low power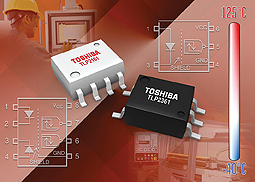 consumption. They find application in factory networking, high-speed digital interfacing for instrumentation and control devices, as well as in I/O interface boards.
By employing Toshiba's high-output GaAIAs (MQW) infrared LEDs, operation is ensured from -40° up to +125°C. The LED's high output and reliability enables low threshold input current of just 1.6mA (max.), a reduction of 54% in comparison with equivalent products. As the supply current per channel is reduced to 1mA, the TLP2361 and TLP2161 have a lower charging rate of up to 66% compared to conventional products.
Thanks to the lower input current rating, the photocouplers can be driven directly by the microprocessor without requiring a buffer, contributing to lower power consumption, lower component count and reduced costs. The receiver IC characteristics are guaranteed over a power voltage range from 2.7 to 5.5V.
Rutronik
www.rutronik.com/8951100c.l