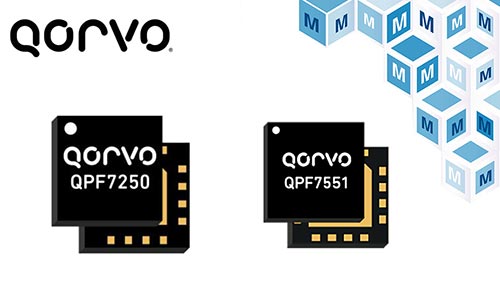 Mouser Electronics, Inc., an authorized global distributor of Qorvo products, offers a wide selection of Qorvo Wi-Fi® 6/6E (802.11ax) solutions, providing power-efficient and reliable whole-home coverage for applications such as smart home, Internet of Things (IoT), industrial IoT (IIoT) and more.
Wi-Fi 6/6E offers a clear advantage over previous Wi-Fi variants, as it not only uses a higher data rate but also simultaneously uses as many channels in the 2.4 GHz or 5.0 GHz band as possible. Wi-Fi 6/6E optimizes total throughput without increasing energy usage or PCB space by using multiple channels concurrently without interfering with each other. Plus, the Wi-Fi 6/6E distributed architecture makes it a key part of Matter, a new protocol and foundation for connected things. Matter aims to bring together different components of Wi-Fi, Zigbee®, Thread and Bluetooth® into one overarching standard.
Qorvo's front end modules (FEMs) provide an integrated front-end solution for Wi-Fi 6/6E applications. These devices combine primary functions, such as power amplifiers (PA), low noise amplifiers (LNAs), switch solutions, filters, power management and device matching in a single package.
The QPF7250 FEM covers the 2.4 GHz band for customer premises equipment (CPE) and provides improved range, capacity and coexistence across all available channels. The wideband QPF4730 provides full-frequency support for both Wi-Fi 6/6E smart home and enterprise solutions. The QPF4730 is also optimized for Power over Ethernet (PoE), improving quality of service (QoS), range and throughput. Qorvo edgeBoost™ filtering technology provides unique capability to maximize capacity and range by eliminating the need to reduce output power on any Wi-Fi channels to meet regulatory requirements.
The QPF7551 and QPF7552 integrate Qorvo's unique bandBoost™ filter technology, which enables consumers to fully enjoy the speed advantages of mesh home networks that broadcast concurrently on three different channels. Combining a powerful amplifier and filter in a single module reduces board size and simplifies the task of Wi-Fi OEM designers in bringing home networking solutions to market faster.
Qorvo's edgeBoost (bandedge) and coexBoost™ (coexistence) BAW filters, also available at Mouser, improve Wi-Fi quality of service and prevent interference with adjacent LTE frequencies.
To learn more about Qorvo Wi-Fi 6/6E solutions, visit https://www.mouser.com/new/qorvo/qorvo-wi-fi-6-solution/