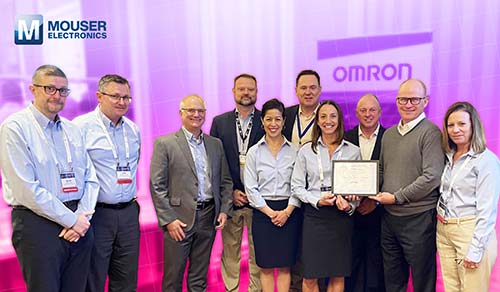 Mouser Electronics, Inc., the industry's leading New Product Introduction (NPI) distributor with the widest selection of semiconductors and electronic components™, is proud to announce it has been named 2022 E-Catalog Distributor of the Year by Omron Electronic Components. This is the third consecutive year that Mouser has received the top digital award.
"Mouser's exceptional performance in 2022 on all metrics of the Distributor of the Year program – sales growth, customer base expansion, marketing activity, and sales engagement – earned them the top spot within our E-Catalog segment. Omron Electronic Components is grateful for the tireless work by the Mouser team, in bringing our new products to market to seed new designs and providing exceptional support globally for our mutual end customers," praises Caroline Wells, Omron Senior Distribution Sales Manager.
As part of the recognition package of the Distributor of the Year program, Omron makes a financial donation in honour of recipient winner companies.
"On behalf of the Mouser team, we thank Omron for this tremendous honour. Omron is a valued manufacturer partner of ours, and we are excited to receive this Distributor of the Year Award for excellence in eCommerce. We look forward to continued success with Omron," said Tom Busher, Mouser Vice President of Supplier Management.
For Mouser's 2022 E-Catalog Distributor of the Year recognition, Omron Electronic Components will donate $5,000 to Mansfield (Texas) Independent School District Education Foundation to support local teachers and students in Mouser's hometown. Mouser regularly supports the MISD Education Foundation with technology grants to enhance science, technology, engineering and math (STEM) education and engaging opportunities for students.
Busher continued: "We thank Omron for this generous charity donation to our local school district, as well as for being a valued partner."
Mouser stocks a wide selection from Omron Electronic Components, including switches, relays, connectors, optoelectronics and sensors that are used in consumer electronics, computer peripherals, office automation products and telecom applications.
To learn more, visit https://eu.mouser.com/manufacturer/omronelectronics/.