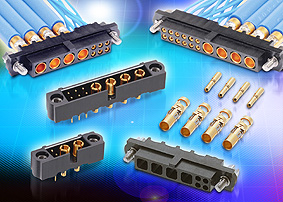 Harwin, the leading hi-rel connector and SMT board hardware manufacturer, is making certain configurations of its Datamate Mix-Tek range of mixed power and signal 2mm connector family available as standard off-the-shelf products, reducing lead time.
Harwin's Datamate Mix-Tek connector range can be customer-specified in a huge number of configurations of signal, power and coax, effectively allowing the customer to design their own Datamate connector, specific to their application, by mixing and matching the required contacts up to a maximum of 50 low frequency contacts or 12 special (coax and power) contacts. Power contacts are rated for use at up to 20 amps, signal contacts are rated at up to 3 amps and coax contacts are rated at 50 ohms.. They are available in Male PC Tail, Female Crimp, Male Crimp and Female PC Tail options. Mouldings are polarized and have a UL94V-0 rating. Mix-Tek connectors comply with the following standards: BS9525-F0033; CECC 75101-008;.
Now, Harwin has responded to industry's demand for fast turn-around by making the most commonly-chosen variations of the Mix-Tek range available as standard items. Comments Product Manager Paul Gillam: "Design Engineers love the flexibility of Datamate Mix-Tek, but sometimes require very fast turn–around, especially for new product development. With this new program they can immediately benefit from the size, weight, performance and cost advantages offered by this high-rel interconnect system."
Currently 41 variants of Mix-Tek Datamate are available as standard items. Configurations include power only from 2-10 power contacts and mixed contact from 2 signal/2 power through to 12 signal/4 power. The standard range focuses on the most popular male PCB contact styles mated with female crimp options. Hexagonal slotted Jackscrews are offered across the range.
www.harwin.com