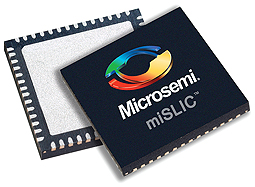 Microsemi Corporation unveiled its new miSLIC™ Series line circuits in booths E21-E22 at the Broadband World Forum tradeshow in Amsterdam. The new fifth-generation telephone line interface solution provides worldwide network operators with the industry's most economical solution for adding two channels of voice to broadband products including residential gateways, DSL integrated access devices (IADs), cable embedded multimedia terminal adapters (eMTAs) and fiber-to-the-premise (FTTX) solutions.
The new Le9662 and Le9672 are designed for applications requiring shared or individual power supplies. Both miSLIC Series line circuits support ringing and system power management, enabling energy efficient control of two telephone lines for meeting the European Code of Conduct on Energy Consumption of Broadband Equipment specifications. The new solutions are also compatible with processors developed by leading system-on-chip (SoC) vendors for residential gateway applications.
Microsemi's residential gateway solutions allow customers to add voice capabilities to customer premises equipment (CPE) easily and cost-effectively. These products deliver the highest levels of integration available today and are optimized for short loop, power-sensitive applications. Microsemi also offers an extensive application toolset to complement these devices, including software development tools, reference designs and development platforms, to speed time-to-market.
The new Le9662 features a patent-pending shared power supply design that rivals the most efficient power supplies available today, only consuming approximately 51 milliwatts of power per channel in the low power standby state. The unique design also enables cost-savings of approximately 30 percent over alternative power supply configurations. To further reduce development costs, it is provided as an economical two-layer reference design board.
Microsemi
www.microsemi.com