Microsemi Corporation announced the availability of the company's new largest density, lowest power SmartFusion®2 150K LE System-on-Chip (SoC) FPGA Advanced Development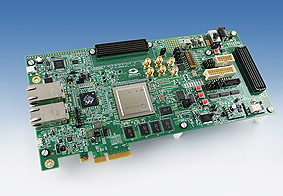 Kit. Board-level designers and system architects can quickly develop system-level designs by using the two FPGA Mezzanine Card (FMC) expansion headers to connect a wide range of new functions with off-the-shelf daughter cards, which significantly reduces design time and cost when creating new applications for communications, industrial, defense and aerospace markets.
The new SmartFusion2 SoC FPGA Advanced Development Kit offers a full featured 150K LE device SmartFusion2 SoC FPGA. This industry-leading low power 150K LE device inherently integrates reliable flash-based FPGA fabric, a 166 MHz Cortex™ M3 processor, digital signal processing (DSP) blocks, static random-access memory (SRAM), embedded nonvolatile memory (eNVM) and industry-required high-performance communication interfaces—all on a single chip. Microsemi estimates its market for FPGAs to be around $2.5 billion. This is based on estimates garnered from iSuppli and competitive financial reports which report on revenue for individual product families.
The new FMC headers provide designers additional cost savings, the ability to accelerate design development, and helps significantly reduce time-to-market on designs by providing the opportunity to leverage a wide range of standard off-the-shelf daughter cards for applications such as image and video processing, serial connectivity (SATA/SAS, SFP, SDI) and analog (A/D, D/A). The release of this kit also complements Microsemi's expertise and IP in JESD204B, supporting the growing enterprise market for high speed data conversion for applications such as radar, satellite, broadband communications and communications test equipment. Also included with the kit is a one-year platinum license for Microsemi's advanced Libero SoC design software, valued at $2,500. With the Libero SoC design software Microsemi has created enhanced ease-of-use and design efficiencies with leading edge design wizards, editors and scripting engines that allow customers a faster time-to-market for SmartFusion2 and IGLOO2 FPGA-based designs.
Microsemi www.microsemi.com