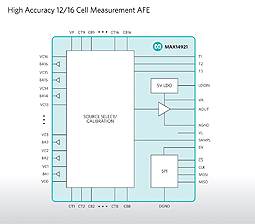 Maxim Integrated Products, Inc. announced it is sampling the MAX14920/MAX14921, high-accuracy, 12/16-channel cell-measurement analog front-ends (AFEs) that lower battery-management electronics costs by up to 35%. These devices double the accuracy of cell voltage readings through the use of high-accuracy common-mode level shifting and an integrated high-precision amplifier that simplifies ADC data conversion. Higher accuracy improves state-of-charge determination and cell balancing that in turn lengthen the life of rechargeable Lithium-ion (Li+) battery packs and maximize available energy, especially important for modern battery chemistries that exhibit flat voltage discharge curves, such as those with LiFePO4 cathodes. The MAX 14920/MAX14921 enable the industry's highest accuracy cell voltage measurements (±0.5mV, max). Ideal for 48V to 65V pack voltages required in uninterruptible power-supply (UPS) systems, smart grid energy-storage packs, and telecom power backup-battery packs, the MAX14921 eliminates up to two 6-channel AFEs required for 13S-16S channel battery packs.
Key Features
• Highest accuracy: increases individual cell accuracy; improves cell balancing.
• Lower cost: one chip supports battery management of up to 16 cell packs.
• Flexible solution: suitable for use in both lower cost applications (using the ADC integrated in a microcontroller) and higher accuracy applications (utilizing an external ADC).
Maxim Integrated
http://www.maximintegrated.com/landing/index.mvp?lpk=737&utm_source=epd-ee&utm_medium=bannernl&utm_content=max149201&utm_campaign=BBB%20Q413