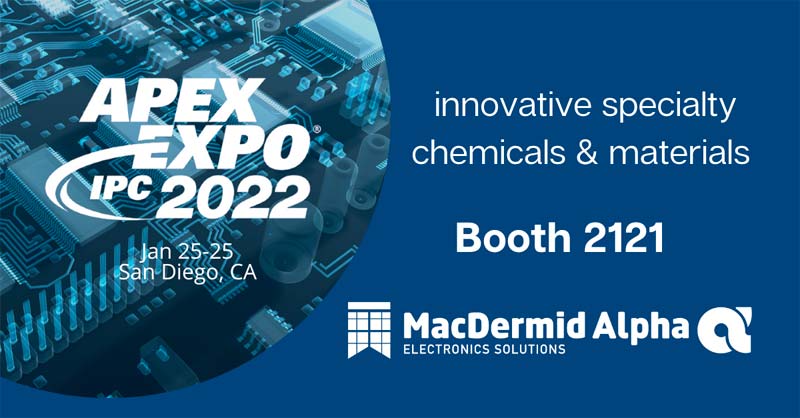 MacDermid Alpha Electronics Solutions, a global supplier of integrated solutions from our Circuitry, Assembly and Semiconductor divisions that provides unmatched capabilities in electronics design and manufacturing will exhibit its latest solutions at the IPC APEX EXPO taking place January 25-27 at the San Diego Convention Center in San Diego, CA.
MacDermid Alpha's industry leading brands, MacDermid Enthone, Alpha, Kester, and the recently acquired Electrolube, will promote their portfolios of innovative metallization, electronics assembly, and thermal management technologies in Booth 2121. For Circuitry Solutions, the MacDermid Enthone brand will highlight the Affinity family of high reliability technology for ENIG/ENEPIG final finishes. In addition, they will promote MacuSpec™ THF, the high performance, void-free through hole copper plating technology, and Blackhole and Shadow direct metallization processes, which offer customers a highly reliabile, environmentally friendly alternative to electroless copper.
The Assembly Solutions Division, represented by the Alpha and Kester brands, will promote its suite of high reliability solutions, the next generation HRL3 low temperature solution, and the ALPHA HiTech portflio of adhesive, underfill, and edgebond solutions. The high reliability solutions will focus on ALPHA CVP-390V and Kester NP505-HR solder pastes with Innolot alloy. When combined with the ALPHA HiTech portfolio of adhesive, underfill, and edgebond solutions and innovative solder preforms, these products deliver superior electrochemical, mechanical, and thermo-mechanical reliability.
The newest addition to the high reliability and low temperature solutions is the ALPHA OM-565 solder paste with HRL3 alloy. Designed to mitigate warpage induced defects by enabling peak reflow temperatures of 175 °C, the HRL3 alloy offers enhanced thermo-mechanical reliability and drop shock performance over existing low temperature alloys. In addition to solder paste, HRL3 is also available in bar and solid wire.
The latest business to join the MacDermid Alpha family of brands is Electrolube with its wide range of chemicals for electronics, such as conformal coatings, encapsulation resins and thermal management materials. Electrolube will promote thermal management solutions for e-vehicle batteries including GF600, a gap filler with a thermal conductivity level of 6.0 W/m.K plus an innovative range of specialist chemicals and advanced conformal coatings including UVCLX. This specialist bio-coating contains 75% bio-organic content from renewable sources and is ideal for an extensive range of applications including automotive. Its secondary chemical cure ensures that even part hidden components on a PCB are coated effectively and offering an exceptionally high level of protection against harsh environments.
For additional information about these and other MacDermid Alpha Electronics Solutions, stop by Booth 2121 and visit MacDermidAlpha.com.
MacDermid Alpha Electronics Solutions