To complement its successful brushless direct current (BLDC) pre-driver portfolio and address conventional DC motor applications, Melexis introduces the MLX83100 N-FET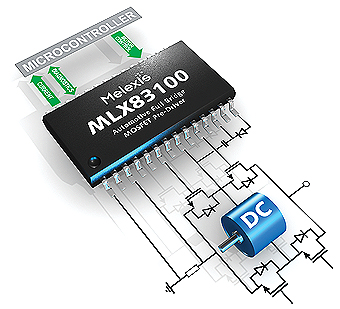 pre-driver IC. Offered in a compact 28-pin package, with four digital inputs, this pre-driver IC provides a very flexible, inexpensive and space-saving solution for high current N-FET DC motors.
Though BLDC motors are now becoming increasingly commonplace, DC motors are still more cost effective in a broad spectrum of application areas, especially where the motor is not continuously running. In the automotive sphere this includes window lift and sunroof opening/closing mechanisms, as well as seat adjustment systems and HVAC blowers. In non-automotive applications DC motors are commonly found in automatic sliding doors, mobility scooters/wheel chairs, garage door openers, fork lifts, dental chairs and hospital beds.
The MLX83100 has the capability to simultaneously drive four 500nC-rated N-FETs at up to 28V operating voltage with minimal self-heating. The device supports 45V automotive load dump conditions. An integrated bootstrap function and charge pump allow for support of supply voltages down to 4.5V, ensuring continuous operation under automotive crank conditions. The device thereby supports 100% pulse width modulated (PWM) operation. Its built-in EEPROM memory provides end-of-line (EoL) configurability, so that the customer can configure the device to their specific system design requirements. The MLX83100 also comprises a current shunt amplifier, with a high gain bandwidth, delivering a fast settling time with high accuracy. This makes these pre-drivers highly suitable for precise torque control applications, like electrical power steering.
Melexis
www.melexis.com