Silicon Labs introduced two economical, easy-to-use development kits to accelerate the design of environmental and biometric sensing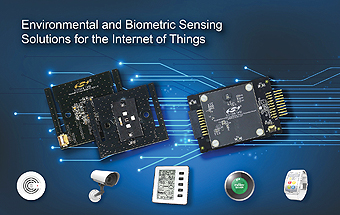 applications for a wide range of Internet of Things (IoT) products. Target applications for the kits include home security systems, smart thermostats, smoke detectors, weather stations, smart watches, fitness bands, heart-rate earphones and other wearable products. Silicon Labs is demonstrating the new environmental and biometric sensing development kits at its booth in the IoT/Wearable Zone in Hall 4 at IIC-China in Shenzhen this week.
Silicon Labs' SLSTK3201A environmental sensing development kit streamlines the process of developing IoT products that sense relative humidity (RH), temperature, ultraviolet (UV) light, ambient light, proximity and human gestures. The development kit combines an EFM32™ Zero Gecko microcontroller (MCU) starter kit with a sensor expansion board. The kit also features a gesture-controlled weather station application that tracks RH, temperature and UV index. Complete source code is available from Silicon Labs' Simplicity Studio™ development platform, substantially reducing application development time.
Silicon Labs' new biometric sensing development platform makes it easier to measure heart rate and blood oxygen level (Sp02), as well as UV index, relative humidity and temperature. The platform includes the BIOMETRIC-EXP-EVB expansion card featuring Silicon Labs' Si114x optical sensors and Si701x/2x humidity and temperature sensors. The sensor card plugs directly into Silicon Labs' EFM32 Wonder Gecko MCU starter kit. Silicon Labs also offers an optional wearable-form-factor HRM-GGG-PS board that supports wrist-based heart rate monitoring and connects to the biometric sensor card through an I2C mini-flex cable.
The biometric demonstration firmware for the EFM32 Wonder Gecko starter kit is available at no charge at www.silabs.com/biometric-exp-evb. The library module includes a heart rate algorithm with source configuration files, eliminating the need to develop biometric sensor drivers from scratch.
The environmental and biometric sensing kits operate on coin-cell batteries, demonstrating the industry-leading ultra-low power consumption of Silicon Labs' MCU and sensor IC products for battery-powered IoT and wearable applications. Each sensor expansion card features Silicon Labs' TS3310 boost dc/dc converter to help minimize energy consumption.
"Highly accurate, ultra-low-power environmental and biometric sensing capabilities are as critical to today's IoT and wearable applications as energy-friendly MCUs and standards-based wireless connectivity," said Ross Sabolcik, vice president and general manager of Silicon Labs' Analog, Power and Sensor products.
Silicon Labs
www.silabs.com/sensors