Targeting Digital Clusters, Infotainment Systems for the Modern Digital Cockpit and Advanced Driver Assist (ADAS) Vision and Sensor Fusion Systems.>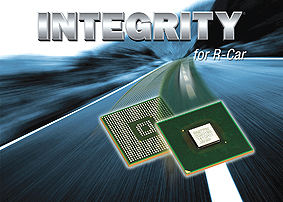 Green Hills Software, the largest independent software supplier for the Internet of Things, has announced a comprehensive family of solutions for the Renesas ARM® Cortex®-A15 and Cortex-A7 based R-Car platform based around the Green Hills INTEGRITY® real time operating system (RTOS) and INTEGRITY Multivisor™ secure hypervisor, including support for the revolutionary new R-Car V2H ADAS platform announced by Renesas Electronics Corporation.
Green Hills has worked with Renesas, the world's number one microcontroller supplier, to create an 'INTEGRITY for R-Car' support package that includes support for all of the major features of the R-Car processors.
The supported high-performance OpenGL ES 3D graphics processor enables digital cluster and infotainment solutions with unparalleled graphics quality.
The INTEGRITY Multivisor utilises the ARM virtualisation extensions available on the Renesas R-Car devices to enable one of the world's highest performing multi-domain infotainment and safety-critical execution environments for next-generation automotive designs. Shipping since 2003, INTEGRITY Multivisor is the only virtualisation solution built upon safety-certified separation kernel technology that provides highly assured isolation between the instrument cluster, ADAS, rear-view camera, and other safety-critical automotive subsystems functions while simultaneously and safely hosting popular infotainment operating systems such as Linux and Android, on a same single multicore Renesas R-Car device.
Green Hills Software
www.ghs.com