Wireless charging promises consumers a new level of convenience for maintaining readiness of mission critical and lifestyle enhancing communication tools. Low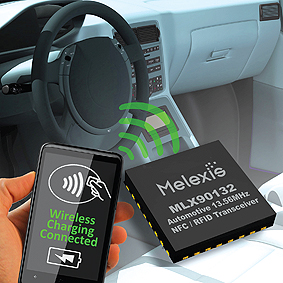 battery warnings are never welcome but seem ever present with the increasing reliance on portable electronics in our personal and professional lives. Combining the automotive grade NFC (Near Field Communication) transceiver of Melexis with Freescale Semiconductor's wireless charging technology enables a ready to use reference design solution that could free us from the dreaded low battery warning.
In the recent times the NFC standard for secure, short range communication for point of purchase and access control has gained a strong and growing position in mobile handsets. Melexis has pioneered this technology for Entry-and-Go and PKE (Passive Keyless Entry) solutions in cars with introduction of its MLX90132 NFC transceiver IC. The uptake of wireless charging is accelerating rapidly. The WCT-5WTXAUTO reference design developed jointly by Melexis and Freescale brings together the best attributes in both technologies. Melexis works with automotive Tier suppliers for the integration and deployment of NFC solutions in cars for applications such as, automatic pairing of mobile devices to the media center (e.g. Wi-Fi or Bluetooth technologies) and automatic identification of the User and download of personal settings. NFC technology can also be used for access control and start, to allow NFC enabled handsets to be the "key" to enter and drive away an automobile. With this reliance on a wireless lifestyle it is more critical than ever that the enabling device, a smartphone or tablet, be kept in a state of maximum charge. Wireless charging deployed in homes, cars, businesses and public spaces is the clear solution. Bringing both wireless charging and NFC together enable new capabilities and conveniences.
Melexis
www.melexis.com/mlx90132