LEM announces the new range of LF xx10 transducers for non-intrusive and isolated nominal measurements of DC, AC and pulsed currents from 100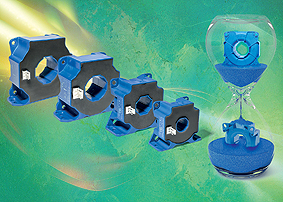 A to 2000 A with 4 new series: LF 210-S, LF 310-S, LF 510-S, LF 1010-S. A fifth, the LF 2010-S will be available in February 2015. LEM has developed a way to make Hall effect technology realise the performance achieved by fluxgate technology. The result is an ASIC based on Hall effect technology for use in closed loop mode and its first use is in the new LF xx10 transducers range. LEM's patented spinning technique and specialist integrated circuits (IC) have been significant contributors to these drastic improvements.
The new series break new ground delivering up to 4 times greater global accuracy over the temperature range (from 0.25 to 0.6 % of IPN) versus the previous generation of Closed Loop Hall effect current transducers, and with a maximum offset drift of 0.1 % of IPN.
With the products' performance of fluxgate, customers are provided not only with better control and increased system efficiency, but also with a significantly lower price whilst overcoming fluxgate drawbacks such as noise, starting up with primary current and restarting without delay after an overload.
Operating from a dual supply voltage from ±12 to ±24V (depending on the models), the LF xx10 models can measure higher current range vs the previous generation, up to three times the primary nominal current (LF 510-S model) when responding faster against a di/dt step with a response time of less than 0.5 µs, due to a dedicated special magnetic core and winding design. Another important advantage of the LF xx10 range is its low sensitivity to external AC and DC fields (up to five times better than the former generation), thus allowing an easier product layout in harsh environments applications, as it is not affected by fields created by other components close by.
Their wide operating temperature range from -40 to +85°C also makes the LF xx10 series suitable for use in any industrial or traction applications.
LEM
www.lem.com