EP&Dee is offering you the chance to win a MPLAB Starter Kit for PIC32MX1XX/2XX (DM320013).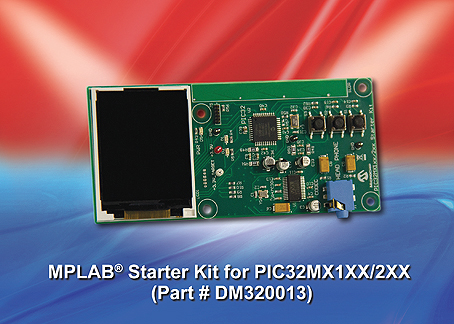 The PIC32 MX1/ MX2 Starter kit is a complete hardware and software tool suite for exploring applications based upon Microchips new low cost, high performance PIC32MX1/ MX2 devices.
PIC32 MX1 and MX2 MCUs low pin count 32-bit PIC32 provide 61 DMIPS of performance in packages as small as 5 mm × 5 mm, for space-constrained and cost-sensitive designs. They are Microchip's smallest and lowest-cost PIC32 microcontrollers, and are the first PIC32 MCUs to feature dedicated audio and capacitive-sensing peripherals. These latest devices also feature USB On-the-Go (OTG) capabilities, making them ideal for developing audio accessories and other applications in the consumer, industrial, medical and automotive markets. This MPLAB Starter Kit is perfect for development of basic user interfaces with mTouchTM buttons and high quality audio. The board is pre-loaded with demo code for an audio player. Simply download a free copy of MPLAB IDE and the demo code source from the web to jump start your development effort.
Features include:
• 24Bit Audio playback
• Integrated Programmer Debugger
• USB Powered
• 2" Color TFT Display – 220 × 176 pixel
• mTouchTM slider and buttons
• PIC32MX250F128 with 128KB of Flash, 32KB RAM
• Micro SD Flash Card
For the chance to win a LED MPLAB Starter Kit for PIC32MX1XX/2XX, visit:
www.microchip-comps.com/epdee-mplabpic32mx1xx-2xx