PLS Programmierbare Logik & Systeme presents the latest version 4.3.4 of its Universal Debug Engine (UDE), an optimized test and debug tool for the new Infineon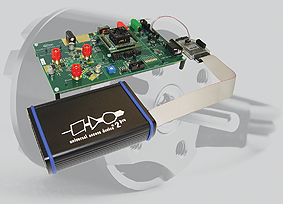 TLE986x and TLE987x Embedded Power IC series.
The highly integrated Embedded Power family was specifically designed for intelligent motor control in a wide range of automotive applications. The devices come in a standard QFN package with a footprint of only 7 mm × 7 mm. In addition to an ARM® Cortex™-M3 core, the devices include flash memory of up to 128 kB, up to six NFETs, a current sensor, a successive approximation 10-bit ADC, a capture and compare unit (CAPCOM6) for pulse width modulation (PWM) control and several 16-bit timers. A number of general purpose input-outputs (GPIOs) as well as a local interconnect network (LIN) interface compatible with LIN standard 2.2 and SAE J2602 serve as communication interfaces.
A defined subset of the standard CoreSight interface is provided for efficient testing and debugging of these highly complex bridge driver ICs. This customized subset is optimally supported by the UDE. The extensively equipped test and debug tool not only takes over control of the ARM® Cortex™-M3 core. With help of the UDE 4.3.4, the on-chip peripheral modules of the Embedded Power ICs can also be visualized and configured at symbolic level in text form.
Furthermore, in combination with PLS' high-performance Universal Access Device (UAD), a fast and reliable programming of the on-chip flash memory can be realized. A digitally isolated target adapter for the connection to the device via JTAG is optionally available. Furthermore, a full Eclipse integration with complete cross-debugger functionality is included in the UDE.
PLS
www.pls mc.com