Yageo's new AT series of thin film automotive grade chip resistors meets the market demand for stability, high precision and accuracy for electric circuit design. The AT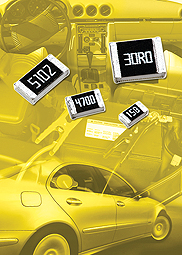 series is available at distributor Rutronik as of now.
The AT series is compliant to AEC-Q200 and combines superior anti-sulfur capability with a robust product design and a high pulse load performance. To eliminate early failures before final testing at taping/sealing, it provides quality assurance through 100% AOI. Built on Yageo's advanced lithography and sputtering technology, the thin film chip resistors feature enhanced resistance tolerance and temperature coefficient characteristics. For use in harsh environments, they resist high temperature humidity (85°C; 85% RH), and have an operating temperature range from -55°C to +155°C. Case sizes are available from 0402 to 1206 (EIA), with a narrow tolerance of ±0.1%, ±0.25%, ±0.5% and ±1%. Their resistance range is from 10O to 1MO, and they feature a low TCR of ±25 and ±55ppm/°C. Therefore, the AT series is ideal for applications including automotive and industrial electronics, medical equipment, test and measurement as well as telecommunications.
Rutronik
www.rutronik.com/88c70ff1.l