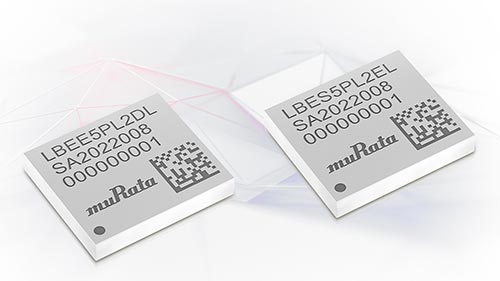 Featuring the company's proprietary expertise, the new LBES5PL2EL module is highly optimised to meet the exacting demands of next generation IoT hardware – where having Matter connectivity is set to become an increasingly important expectation. This module is based on a highly-integrated IW612 single-chip 2.4/5GHz solution from NXP, which covers a broad array of different wireless protocols. Through this, 1×1 dual-band Wi-Fi (IEEE 802.11a/b/g/n/ac/ax), Bluetooth 5.3 and IEEE 802.15.4 are all incorporated into the Murata tri-radio module.
Inclusion of LE Audio functionality is another important plus point, especially in relation to voice-controlled products. This latest generation of Bluetooth technology delivers heightened performance, while drawing less power, and is predicted to replace many of the current BR/EDR Bluetooth-based audio connections in the near future.
Also being made available is the LBEE5PL2DL module. This is based on the NXP IW611 device, and features both Wi-Fi 6 and Bluetooth 5.3 support.
Among the intended applications for these newly-announced modules will be home automation equipment, digital assistants, smart domestic appliances, lighting gateways, climate control systems and EV charging points. FCC/IC and TELEC certification plus conductive tests for CE are all available, thereby helping customers using these modules to accelerate their time to market and keep product development costs down.
The Murata LBES5PL2EL and LBEE5PL2DL wireless combo modules are each supplied in compact surface-mount packages, with dimensions of just 8.8mm x 7.7mm x 1.3mm. For more information on them go to: LINKS
"There are still only a few Matter-compliant solutions on the market, yet the potential for it to deliver convenience and comfort to the places in which we live is huge," states Akira Sasaki, Director of the Communication Module Division at Murata. "Thanks to the introduction of the LBES5PL2EL, we are now able to provide full support for Matter, including Thread, alongside Wi-Fi 6. This will be a real value to engineers developing hardware for home/building automation, as well as for numerous other purposes."