Kontron, a leading global provider of Embedded Computer Technology (ECT), introduced its Wildcat 2U rugged rackmount server based on Kontron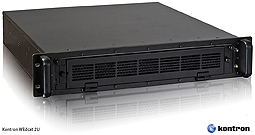 motherboard computing technology. Designed specifically to meet the challenging computing needs of exploration and operations, Kontron's new 19-inch rugged rackmount server is backed by Kontron's global technical support organization. Optimized for high mean time between failure (MTBF), the Kontron Wildcat 2U meets high shock and vibration as well as extreme temperature and dust requirements demanded in Oil & Gas installations. These capabilities make the Kontron 2U Wildcat an ideal computing system for rapidly expanding Oil & Gas applications including Supervisory Control and Data Acquisitions (SCADA), intelligent control room management and oil production and drilling.
For decades, Kontron has been known as a leading designer and manufacturer of advanced embedded computer systems, subsystems and computer boards. These proven platforms are successfully deployed in a wide range of military and industrial applications by meeting the strict requirements of operation in extreme environments and long product life. This same expertise is now available to the Oil & Gas industry that are faced with frontier acreage and challenging geographic installations that must be overcome in order to meet the ever-increasing demand from emerging and traditional markets.
The Wildcat 2U is a unique offering in the Oil & Gas industry. Unlike competitive solutions that use third-party components and only localized engineering support, Kontron is investing its significant rugged computing knowledge combined with its established worldwide technical team to provide maximum system uptime, explained Michael Burdick, Head of Industrial Business Unit, North America.
The Kontron Wildcat 2U in detail
Based on the Kontron KTQ77/Flex motherboard that integrates the 3rd Generation Intel Core processor, the Kontron Wildcat 2U rackmount server offers extended temperature operation through efficient cooling. The robust design features a front-accessible dust filter as well as cable tie downs, hold-down brackets for expansion cards and memory and shock-mounted drive bays to ease transport. I/Os include 4x USB 3.0, 2 x USB 2.0 and 3 x Gigabit Ethernet ports. The system can power up to three individual displays and supports HD audio. The Wildcat 2U has three removable hard drives (2.5or 3.5) as well as a slim DVD +/-RW drive.
The Kontron Wildcat 2U is available now. For more information, please visit the Kontron rugged rackmount server Wildcat 2U page.
Kontron
www.kontron.com