Kontron announced the launch of the AM4024 AdvancedMC module featuring the 4th generation Intel Core i5 / i7 processor series, ideal for high-performance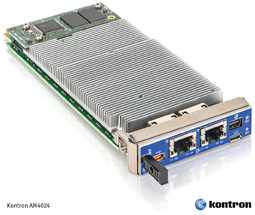 computing and general multi-processor systems. Compliant to MicroTCA and AdvancedTCA commercial-off-the-shelf (COTS) hardware designs, the AM4024 perfectly serves the network requirements for media server and gateway applications, as well as test and measurement solutions. In particular, the Kontron AM4024 also offers a faster go-to-market strategy for the burgeoning mobile and broadband content delivery segment.
From a 1U MicroTCA platform with six AdvancedMC slots to a 13U AdvancedTCA platform with up to 12 ATCA carrier card slots, the Kontron AdvancedMC module AM4024 is an integral component to support the various streaming, live and off-line video transcoding. The delivery of video requires significant compute resources which, in the case of the Kontron AM4024, can be efficiently offloaded to the Intel Iris Pro Graphics 5200 engine incorporated into the 4th generation Intel Core i7 processor. Independent Software Vendors (ISVs) can take advantage of the Intel Media SDK 2014 to utilize the Intel Iris Pro and Intel HD Graphics hardware acceleration capabilities. The design process is significantly shortened to easily develop optimized media applications – for Linux and Windows server operating systems – that encode, decode, and transcode for real-time streaming, teleconferencing, and video analytics.
Relying on the graphics engines for media optimization opens the door for other high-perfomance computing applications to run on the general purpose quad-core Intel Core i7 processor, itself. The AM4024 supports multiple Intel Core processor SKUs, including the: quad-core Intel Core i7-4860EQ GT3 processor (1.8 GHz, 6 MB Cache), the quad-core Intel Core i7-4700EQ GT2 processor (2.4 (1.7) GHz, 6 MB Cache), and the dual-core Intel Core i5-4402E GT2 processor (1.6GHz or GT2 3 MB Cache).
Kontron
http://www.kontron.com/products/boards-and-mezzanines/advancedmc/processor/am4024-am4024e.html