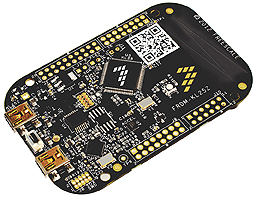 Easy-to-use, web-based mbed development tools are now freely available for the Kinetis L series of microcontrollers from Freescale Semiconductor.
The FRDM-KL25Z Freescale Freedom development platform is now included in the mbed hardware lineup, supported by the well-established mbed online development community.
The FRDM-KL25Z Freescale Freedom development platform is a low-cost hardware tool used to evaluate and develop with Kinetis L series MCUs, the industry's first microcontrollers built on the ARM® Cortex™-M0+ core. FRDM-KL25Z is ideal for rapid prototyping of MCU-based applications and has proven to be an effective solution for developers, with more than 10,000 users adopting the platform within one month of its release.
With the addition of FRDM-KL25Z to the mbed hardware lineup, FRDM-KL25Z customers can now utilize mbed.org at no charge. Users will have full access to the mbed online environment, which includes a software development kit (SDK), powerful online tools, an active community of developers and a large selection of reusable code. The mbed online compiler provides a quick and easy way to get started and experiment with the FRDM-KL25Z without having to download, install and license any tools. The mbed.org user forums provide an interactive community of professional developers working with a common mbed SDK and tools, sharing best practices and helping designers be more productive.
Freescale Semiconductor
www.freescale.com