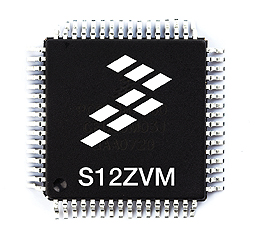 Automobile sales in China are booming, with a 13 percent year-over-year gain for April 2013, according to the China Association of Automobile Manufacturers. At the same time, the amount of electronic content per vehicle continues to increase as automakers add features to differentiate themselves in this highly competitive market. To help address the need for cost-effective vehicle electronic systems, the Freescale Semiconductor S12 MagniV mixed-signal microcontroller (MCU) portfolio offers Chinese automakers highly integrated, single-chip solutions that are extremely reliable and easy to develop with, while helping reduce the bill of materials and overall manufacturing costs.
Traditionally, automotive electronic system designs have required multiple components – some created with a high-voltage process to connect to the battery and power actuator outputs, as well as MCUs created with a low-voltage digital logic process. This poses a challenge when the end application has space limitations. S12 MagniV MCUs address this challenge by integrating an analog front end and MCU, providing a comprehensive single-chip solution for applications such as anti-pinch window lifts, instrument clusters and brushless DC motors. By combining the latest CAN- and LIN-based S12 MagniV devices with the latest Qorivva MCU body control module in a networked system, car OEMs are able to eliminate up to 20 pounds of copper wiring and board components, reducing vehicle weight and further improving fuel economy. Through several joint technology labs in China, Freescale is helping accelerate the introduction of innovative designs into the automotive market. Freescale and Tongji University in Shanghai developed an anti-pinch window lift reference design, which demonstrates the capabilities of the S12 MagniV portfolio. This reference design is based on the S12 MagniV S12VR MCU and is ideal for the development of power windows and sun roof systems.
In addition to collaborating with Tongji University, Freescale participates in automotive joint labs across China with partners including ChangAn Motor, Chery, Foton Motor, Dongfeng Motor and FAW.
Freescale Semiconductor
www.freescale.com