With the MSC Q7-NT2, MSC Vertriebs GmbH presents its first ARM® processor based Qseven™ module. The compact module consumes only 5 W typical and is specified for an extended ambient temperature range from -40 degree C to +85 degree C. The excellent graphics performance of the embedded module allows playback of HD videos and is, among other applications, ideally suited for digital signage.
Microsoft® Windows CE operating system and support for the open source, free Linux is currently offered for the Qseven(TM) module MSC Q7-NT2. In future, other alternatives will be available since Microsoft® recently announced that the next Windows® version will also support the ARM architecture in addition to Intel's x86 processors.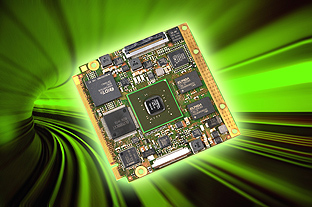 The high-performance Qseven(TM) module MSC Q7-NT2 is based on the NVIDIA Tegra(TM) 290 low-power processor with dual core ARM Cortex A9, which is clocked with up to 1 GHz. The ARM/RISC processor architecture is supported by the Qseven(TM) Specification starting with Revision 1.20, which was released in September of 2010. Up to 1 GB DDR2 SDRAM and a NAND flash memory with a maximum capacity of 8 GB are integrated on the module.
The onboard ultra low-power 3D graphics controller GeForce OpenGL ES 2.0 offers a full HD resolution with 1920 x 1080 pixels. The graphics controller supports MPEG4/H.264 video encoding (D1) and decoding (Full HD). The HDM 1.3I interface and a second dual channel LVDS interface allow the connection of two large-scale displays. A camera can also be connected via the 1x 8-bit BT.656 video input available on the feature connector.
Thanks to its special graphics functionality, the Qseven(TM) module MSC Q7-NT2 is designed particularly for visualization applications, for example, in the medical sector and for image processing tasks. Demanding digital signage, multimedia, entertainment and Internet TV systems can also be implemented with the module. Furthermore, due to the extended temperature range, the platform is also perfect for use in industrial applications in harsh environments and transportation applications.
The Qseven(TM) module MSC Q7-NT2 offers three PCI Express(TM) x 1 channels, up to four USB 2.0 hosts, an USB OTG port, a serial UART interface, AC 97 audio, 10/100/1000 Base-T Fast Ethernet (IEEE1588 Real Time), I2C (400Kbit/s) and SPI. The SD/SDIO/MMC interface allows the connection of memory cards. The application data can be stored via two SATA II channels.
www.msc-ge.com