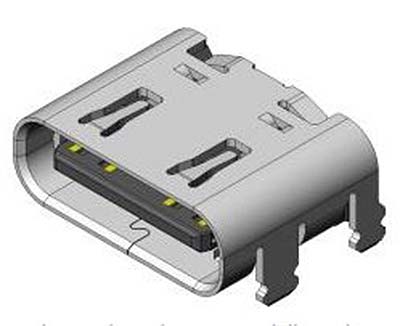 With the DX07S016JA3R1500 from JAE, Rutronik carries a popular USB-C type input/output connector. It is mounted at right angles on the board and is suitable for single-row surface mounting in up to 16 positions. Applications are diverse, ranging from mobile device chargers and power adapters to wall-mount control panels, security systems, gateways, and hi-fi applications. JAE's DX07 connectors come in 1,500 pieces/reel in an embossed tape package and are available at www.rutronik24.com.
At just 1.58mm, the jacks are very space efficient to mount. The rated voltage is 48 Vrms with a maximum rated current of 5 A. The initial contact resistance is a maximum of 40 mΩ, while the insulation resistance is at least 100 MΩ. With 10,000 mating cycles and reliable functionality at operating temperatures from -40° C to + 85° C, JAE's connector is an optimal choice for a wide range of applications.
Further specification:
• Shell DIP Length 1.2 mm
• Without backplane
• Dielectric resistance voltage AC 100 Vrms (1 minute)
• Nickel gold plated contacts
Other applications:
• Lithium motor control
• Wall Control Panel
• Smartbox Compressor
• Security System
• Gateway
• HiFi
• Chargers for Mobile Devices
For more information about the DX07 by JAE and a direct ordering option, please visit our e-commerce platform at www.rutronik24.com.