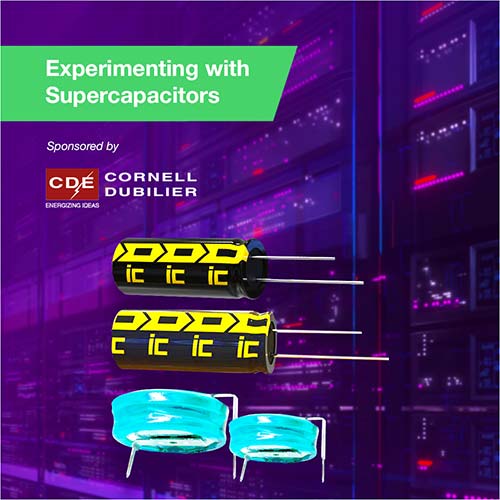 element14, an Avnet Community, recently launched its Experimenting with Supercapacitors Design Challenge. This unique competition provides participants with the opportunity to explore the potential of Cornell Dubilier's supercapacitors and compete for some exciting prizes.
Supercapacitors, also known as ultracapacitors and electric double layer capacitors (EDLCs), are advanced capacitors with significantly higher capacitance values than traditional capacitors. These high-capacity energy storage and delivery devices offer rapid and reliable bursts of power, making them ideal for various applications.
From wind turbines and mass transit to hybrid/EV vehicles, consumer electronics, energy harvesting devices, and industrial equipment, supercapacitors have become a key component in revolutionizing energy storage and extending battery life. With their ability to deliver millions of duty cycles, even in demanding conditions, supercapacitors provide cost-effective alternatives to traditional batteries or supplementary power sources.
"Supercapacitors are a key component for energy storage and extending battery life in renewable energy systems," said Dianne Kibbey, Global Head of Community and Social Media for element14. "We look forward to observing the innovative approaches our members take when using supercapacitors, as they conduct tests to experiment with their unique energy storage capabilities."
Applications for the Experimenting with Supercapacitors Design Challenge are now open and will continue until July 17. The selected participants will be announced on July 19, and the experimenting period of the challenge will officially commence on July 20. Winners will be announced in September 2023.
All competition finishers will receive an Adafruit Circuit Playground Express Advanced Pack valued at $100. The runner-up will be awarded a Digital Oscilloscope from Multicomp Pro worth $700, along with a GoPro HERO10 Black Sports Camera valued at $350. The grand prize winner will receive a Spectrum Analyzer and DC Electronic Load from Multicomp Pro, worth $1144 and $400 respectively.
To learn more about the Experimenting with Supercapacitors Design Challenge and to enter the competition, please visit https://community.element14.com/challenges-projects/design-challenges/experimenting-with-supercapacitors/.