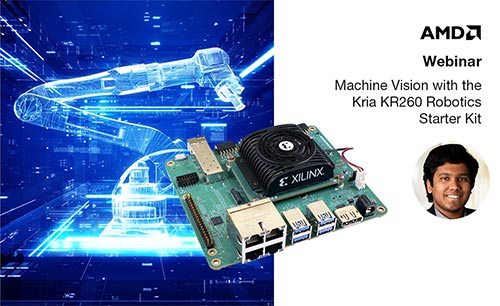 element14, an Avnet Community, is teaming up with industry leader, AMD, to host a webinar on machine vision with the Kria KR260 Robotics Start Kit. The webinar will take place on May 18 from 11:00am to 12:00pm Central Time / 5:00pm to 6:00pm GMT.
With the Kria KR260 Robotics Starter Kit and the Kria Robotics Stack (KRS), users can easily build a complete robotics system using a ROS 2-based environment with low-latency, deterministic communication connecting production-ready Kria SOM to Kria SOM. In the process, creating an adaptive system that can readily implement evolving and diverse algorithms as well as scale across multiple projects.
In this webinar, Karan Kantharia from AMD will introduce the Kria KR260 Robotics Starter Kit and demonstrate how it can be used to hardware accelerate ROS 2 and machine vision designs.
"We're excited to partner with AMD to host this exciting webinar," said Dianne Kibbey, Global Head of Community and Social Media for element14. "The Kria KR260 Robotics Starter Kit is a powerful tool for developing adaptive robotics systems, and we can't wait to see the amazing projects that our community members will create using it."
What you will learn by attending:
Key technologies driving the future of robotics
Overview of the KR260 starter kit hardware
Ubuntu 22.04-ready apps available for out-of-the-box robotic system creation
How KRS makes ROS 2 (Humble edition) development simple and productive
Benchmarking against popular robotic development platforms
Capabilities for additional industrial connectivity like SLVS-EC, 10 GigE Vision, and Time Sensitive Networking
In addition, element14 Community and AMD will be giving away three Kria KR260 Robotics Starter Kits, each valued at approximately $430, to the three attendees who ask the best questions during the Q&A session.
Registration for the webinar is open now at the element14 Community website. Don't miss this opportunity to learn about the future of robotics and the exciting capabilities of the Kria KR260 Robotics Starter Kit.
Visit element14 Community to learn more and register: https://community.element14.com/learn/events/c/e/1646.