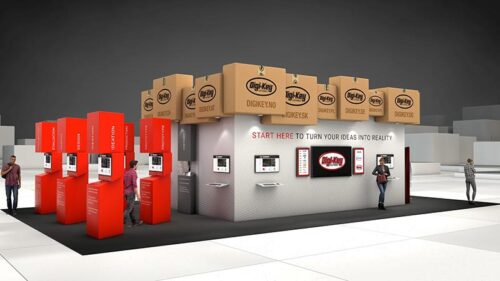 Digi-Key Electronics, which offers the world's largest selection of electronic components and automation products in stock for immediate shipment, invites attendees at embedded world 2023 to visit its booth, 4A-633, March 14-16, in Nuremburg, Germany to learn about enhancements to the customer experience in Europe, view technical demonstrations and participate in exciting prize giveaways.
embedded world attendees visiting Digi-Key's booth can experience live, interactive technical demonstrations, as well as several games and giveaways. The Digi-Key Studio will feature live interviews and product demos with over 20 top suppliers including Analog Devices, Taoglas, Raspberry Pi, Efinix and more. Attendees can receive a prized Digi-Key PCB Ruler from Digi-Key's engineering team. There will also be "instant winners" of prizes throughout each day, so be sure to stop by the Digi-Key booth for your chance to win. Booth visitors can also take a break from the event by grabbing a coffee at the sponsored Digi-Key Café.
Our technical experts will guide you through how Digi-Key supports the design cycle from ideation to production, including walking booth visitors through the latest addition to our Innovation Hub, an online web immersive experience highlighting our products, suppliers, content and value-added services. The Industrial Sector, featuring technology from Analog Devices, allows Innovation Hub visitors to learn about advanced motor control technologies that simplify design and provide more robust solutions for robotic arms, autonomous guided vehicles and conveyor belt applications.
Digi-Key representatives will be present to discuss the company's expanded supplier offerings in Europe, enhancements to its frictionless digital experience, Google Pay and Apple Pay options, and improvements to value-added tax (VAT) delivery and options across Europe. Representatives can also help with any technical or customer support questions attendees may have.
"Europe is an innovation hub, especially in spaces like automotive, healthcare and green energy, so attending events like embedded world gets us excited to continue to find ways to fuel that innovation," said Dave Doherty, president at Digi-Key. "As the fastest-growing ecommerce distributor in Europe, Digi-Key is continually enhancing our customer experience tools so we can make it as easy as possible for our European customers to get exactly what they need, when they need it."
Attendees can find Digi-Key at booth #4A-633. For more information about Digi-Key and to order from their product portfolio, please visit the Digi-Key website.