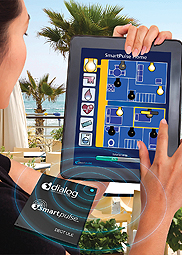 Dialog Semiconductor plc, a provider of highly integrated innovative power management, audio and short range wireless technologies, has announced SmartPulse™, the world's first family of IC based devices interoperable with the DECT ULE (ultra low energy) wireless standard. SmartPulse has been created for home automation, healthcare, security and energy monitoring consumer applications.
End products integrating SmartPulse wireless sensors self configure to connect with a home's DECT ULE enabled hub device or IP gateway. End users will also be able to manage SmartPulse systems remotely via a smartphone, laptop or tablet PC.
Dialog's SmartPulse suite of IC based devices consists of the SC14WSMDATA (data) and SC14WSMDECT (data and audio) wireless sensor nodes, which run for up to 10 years on a single AAA battery pack, and the SC14CVMDECT base station device that can be integrated into standalone hub products or internet gateways – allowing the remote management of SmartPulse enabled systems over an internet connection.
The DECT ULE standard is backwards compatible; enabling SmartPulse sensor nodes to communicate with existing legacy DECT enabled hubs and internet gateways from multiple manufacturers, with a simple software update.
Lisa Arrowsmith, Senior Analyst with IMS Research's Connectivity Group commented: "DECT ULE can enable a variety of in-home applications, such as automation, security, energy management and consumer health monitoring. DECT technology has already proven its performance in residential environments, and the emerging DECT ULE standard will benefit from the maturity of previous DECT solutions, in terms of both technical development and consumer awareness. With low sleep-mode power consumption and a range well-suited to residential environments, IMS Research projects rapid uptake of the DECT ULE standard for wireless sensor networks."

"The rise of the smartphone and tablet PC has led to a shift that enables ease of control. By connecting SmartPulse devices to the web consumers can seamlessly and securely control multiple home systems simply from anywhere," said Jalal Bagherli, CEO of Dialog. "Our heritage in power efficiency, combined with our acquired expertise in DECT and IP communications, puts us in a unique position to enable these new consumer applications."
All SmartPulse devices transmit 232-bit packet data in the 1870-1930MHz licensed DECT band. With a link budget of 123dB, systems that integrate SmartPulse sensors can reliably stream data throughout even large family homes and gardens.
The SC14WSMDATA and SC14WSMDECT sensor nodes integrate the baseband, radio transceiver, antenna and power amplifier into a single system-in-package IC. In sleep mode the programmable devices use less than 3uA. Home automation applications being developed by Dialog's customers include wireless smoke detectors, door lock sensors, appliance energy monitoring, window security monitors and lighting control systems. The SC14WSMDECT sensor further integrates audio functionality, enabling the creation of battery powered voice devices such as personal security and healthcare pendant communication devices.
The SC14CVMDECT base station device supports both voice and data, connecting with up to six voice and 256 data sensor nodes, and supports the DECT ULE, DECT 6.0 and CAT-iq standards. The system-in-package IC, that integrates a UART interface for external hosts, is easily programmable using its AT command set and requires no wireless network planning.
The Dialog SmartPulse devices meet certification standards for all global markets – FCC, EU and J-DECT. All three devices will be available in high-volume quantities from October 2011 in 25x29mm, 123-pin packages.
SmartPulse is Dialog's first wireless technology launch since it acquired SiTel Semiconductor in February 2011. The three SmartPulse devices, with development kits and an IP enabled reference design, will be demonstrated by Dialog in October at the Smart Homes exhibition and conference, Amsterdam.
Dialog Semiconductor
www.dialog-semiconductor.com