Kontron, a leading global provider of IoT/Embedded Computer Technology (ECT), introduces two COM-HPC® Clients, COMh-caRP and COMh-ccAS, based on 13th Gen Intel® Core™ processors (former codename Raptor Lake U/P/H and Raptor Lake-S) mobile and desktop version. They offer a significant increase in performance compared to the previous generation and are equipped with 14 cores up to 24 cores with Intel® performance hybrid architecture. The 13th generation is particularly well suited for connected IoT applications. A new embedded controller ensures improved availability, flexibility and system openness.
The new COM-HPC® Client modules with 13th Gen Intel® Core™ processors offer more processor cores, threads, cache, and faster memory to support compute-intensive edge applications and to enable a flexible, modular approach. They feature an optimized power-performance ratio with a power consumption of 15 to 45W TDP (Thermal Design Power); in multithreading 20 threads (mobile processor) up to 32 (desktop processor) can be processed with 14 – 24 processor cores.
Up to 96 graphics units provide high-performance graphics and fast video processing for impressive experience and highly parallel AI workloads with four display pipes and Pipelock synchronization. The modules come with 64GB (mobile processor) or 128GB (desktop processor) of LPDDR5 memory and up to 2x 2.5 Gbit Ethernet, including TSN support.
COMh-caRP: Industrial feature set for demanding applications
The COM-HPC® client module with a 13th Gen Intel® Core™ mobile processor and a size of 95x120mm provides essential, industrial-grade features such as support for In-Band Error Correction Code (IBECC) memory, Intel® Time Coordinated Computing (Intel® TCC), Time Sensitive Networking (TSN), and extended temperature ranges of -40 °C to +85 °C max.
Selected SKUs are compliant to industrial use conditions of 100 percent operation over 10 years for best-in-class durability. IoT differentiation also guarantees long-life availability, support for Windows 10 IoT Enterprise 2021 Long-Term Servicing Channel (LTSC) and EFLOW as well as Linux kernel overlay for easy deployment of IoT capabilities. As storage medium, an NVMe SSD up to one terabyte can be optionally integrated onboard.
"All features are perfectly suited for high-performance computing in resource-intensive and demanding areas such as networking, automation and measurement, and customers benefit from long-term availability", explains Martin Unverdorben, Product Manager Computer-on-Modules at Kontron.
COMh-ccAS: Intensive graphics and computing power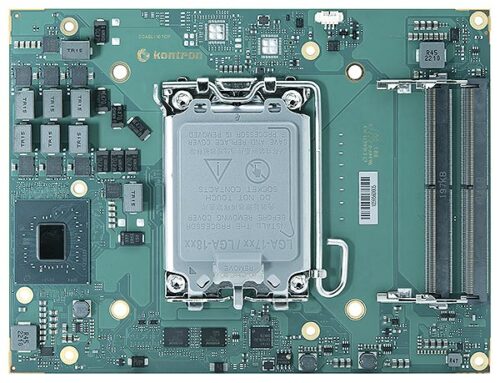 The COMh-ccAS, size C 160x120mm, has already been developed for 12th Gen Intel® Core™ processors and is equipped without CPU (socketed). It can now also be used with the 13th Gen Intel® Core™ desktop processor. Thanks to the socketed Intel® hybrid processors of the 13th generation, exceptionally high multi-thread performance can be achieved with 24 processor cores and 32 threads at up to 65 W TDP (on board).
The flexible thermal connection allows the use of both low-cost standard heatsinks as well and a low-profile passive cooling connection. Depending on the configuration level, three different chipsets can be used; PC client or embedded use case variants are available. In addition, the new module comes with two TSN-capable 2.5 Gbit Ethernet ports. If required, it can be equipped with four DDR5 SODIMM memories for up to 128 GB.
New embedded controller with optimized interfaces
A new embedded controller is now used on all new Kontron boards, replacing the previous CPLD-based variant and enabling direct Linux kernel support. In addition to the cost benefits, the controller provides improved availability and optimized interfaces such as UART, GPIOs, HW monitor, fan control, I2C or watchdog. In addition, it can read and react to environmental data from CPU and chipset.
The evaluation carrier for all COM-HPC® Client modules supports developers with a PCIe connection of all available interfaces, USB 3.X and USB4 interfaces (Thunderbolt) and a POST code display for easy commissioning.