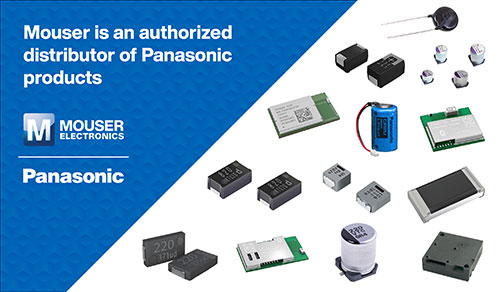 Mouser Electronics, Inc., the industry's leading New Product Introduction (NPI) distributor with the widest selection of semiconductors and electronic components™, is showcasing the newest innovations from Panasonic Corporation to provide manufacturers with the latest in performance, quality and reliability, building world-class solutions for customers in virtually all industries, including automotive, industrial, power and sensor systems and smart home applications. Mouser continues to expand its customers' product development process with nearly 25,000 parts from Panasonic and their subsidiaries, Panasonic Batteries, Panasonic Electronic Components and Panasonic Industrial Devices.
The Panasonic PAN9028 Wi-Fi® dual-band and Bluetooth® Module supports 2.4GHz and 5GHz 802.11 a/b/g/n/ac Wi-Fi, with integrated Bluetooth Basic and Enhanced Data Rate (BR/EDR) capability, bundled with Low Energy (LE) power features. This module meets the speed, reliability and quality requirements of highly integrated applications like Industrial Internet of Things (IIoT), smart homes, buildings, medical devices, and beacons. The independent yet simultaneous operation of both Wi-Fi and Bluetooth standards offers flexibility for connectivity, with high data rates (802.11ac) and low-power operation utilizing Bluetooth Low Energy. Other features include integrated power management, a fast dual-core CPU, 802.11i security standard support and high-speed data interfaces.
Mouser also offers the Panasonic ACTE3CH2A05V automotive TE relay. This twin-type relay features a compact, space-saving design (13.6 mm x 12 mm x 13.5 mm), with a 20 A at 14 VDC switching capacity and a 25 A maximum carry current rating, in both a 1 Form C and 1 Form C x 2 contact arrangement, mounted using PCB terminals. The ACTE3CH2A05V automotive TE relay features high heat resistance, can control both forward and reverse motor directions, and can be utilized in a wide variety of applications from industrial robotics to electric scooters, and automotive applications such as defoggers, seat heaters, DC power controls, and more.
The Panasonic AQY215S SOP4 PhotoMOS®  relay is designed to control low-level analog signals found in telecommunication, measuring/testing equipment, and factory automation applications. The Panasonic AQY215S offers 1 μA maximum low-level off-state leakage current in a small SOP4-pin package, featuring 100 V load voltage and 250 mA load current.
Panasonic's Polymer capacitors, also available from Mouser, offer various technologies for the most demanding applications. OS-CON™ capacitors feature a long-life span and minimal changes in ESR (equivalent series resistance) throughout the entire rated temperature range. POSCAP (Tantalum Polymer) parts offer high reliability and heat resistance, making them ideal for digital, high-frequency devices. The SP-Cap (Aluminum Polymer SMD) line from Panasonic is resistant to temperature drift and DC/AC bias characteristics while offering extremely low ESR, capacitance ranges up to 560 µF, and a voltage range from 2 V to 16 V. The EEH-ZA, EEH-ZC and EEH-ZK devices combine the benefits of both electrolytic and aluminum polymer capacitor technologies to create capacitors with low ESR, low leakage current, high ripple current, and smaller case sizes.
To learn more about the Panasonic products available from Mouser Electronics, visit https://www.mouser.com/manufacturer/panasonic/.