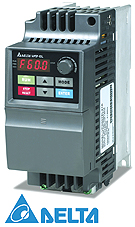 DELTA VFD-EL 230V 1 PHASE 11A 2.2kW INVERTERS
The inverter VFD-EL series is a multiple function new generation micro type AC drive. It has built in EMI filter, RFI switch, easy DC bus sharing for side-by-side installation, high precision current detection, overload protection, and a built In keypad.
• Single phase input
• Output frequency 0.1 to 600 Hz
• 3 points adjustable V / f curve
• Built-in PID feedback control
• Use RS-485 communication interface (RJ-45) with Modbus protocol
TEXAS INSTRUMENTS CC3000 BOOSTERPACK
The CC3000 BoosterPack showcases the SimpleLink™ Wi-Fi CC3000 module, a self-contained wireless network processor that simplifies the process of implementing Internet connectivity. SimpleLink Wi-Fi minimises host microcontroller (MCU) software requirements making it the ideal solution for embedded applications using any low-cost and low-power MCU.
• IEEE 802.11 b/g
• Embedded IPv4 TCP/IP Stack
• Tx Power: +18 dBm at 11Mbps, CCK
• Rx sensitivity: -86 dBm, 8% PER, 11 Mbps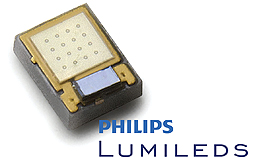 LUXEON UV LEDS
LUXEON UV is 1/5 the size of other ultraviolet and viole LEDs and is the industry's smallest footprint, high-power emitter. LUXEON UV LEDs can be assembled in tight arrays with spacing of only 200 microns, which enables highest power density (W / cm²) systems. The product delivers superior efficiency, undomed for precise optical control and a portfolio covering ultraviolet (380- 400 nm) and violet (400-430 nm) light.
• 2.2 mm² micro footprint for industry's highest array W / cm²
• 1 A max drive current for more flux per LED
• AIN substrate with Rth as low as 3.5 K / W
• Less heat to manage with up to 45+ % wall plug efficiency
• Precise optical control from an undomed emitter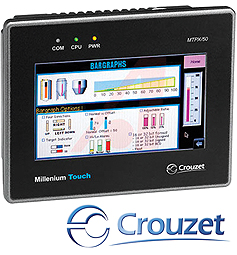 CROUZET MTP8/50 PROGRAMMABLE TOUCH PANELS
Programmable touch panel series MTP for the Millenium 3 micro-PLC. Features include a fan-less cooling system, 128 MB flash memory storage, text, data, graphic, animation display and a wide viewing angle of 70° horizontally and vertically.
• 65536 colors, LED backlight
• Graphical resolution is 480 × 272 pixels
• RS232/RS485 serial port
• MTP6/50: USB 2.0 port for programming
• MTP8/50: Ethernet port for programming and communication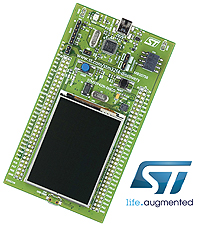 STM32 MICROCONTROLLERS, F4 SERIES
The STM32 F4 family of 32 bit Flash microcontrollers based on the ARM Cortex™ M processor is designed to offer new degrees of freedom to MCU users. It offers a 32 bit product range that combines high performance, real-time capabilities, digital signal processing, and low power, low voltage operation, while maintaining full integration and ease of development.
• 225 DMIPS/608 CoreMark at 180 MHz from Flash
• Up to 2-Mbyte dual-bank Flash, 256-Kbyte SRAM
• TFT LCD Controller with ST Chrom-ART Accelerator™
• Longer battery life: 100 μA typical in Stop mode
• STM32F429 discovery kit with free STemWin professional graphical library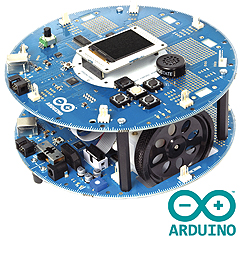 ARDUINO ROBOT
The Arduino Robot is the first official Arduino on wheels. The Robot has two processors, one on each of its two boards.
The Motor Board controls the motors, and the Control Board reads the sensors and decides how to operate.
Each of the boards is a full Arduino board programmable using the Arduino IDE.
• Microcontroller ATmega32u4
• Operating voltage 5V
• Clock Speed 16 MHz
• Full colour LCD
• SD card reader
Aurocon Compec
www.compec.ro
www.designspark.com