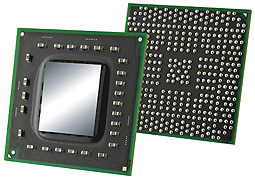 At the recent Embedded World event in Nuremberg, AMD's Embedded Solutions division announced new processor technology for the embedded computing market: the AMD Embedded G-Series processors. Based on the same new 64-bit, CPU core that is part of the AMD Embedded G-Series Accelerated Processing Units (APUs), this technology delivers impressive x86 processing performance for deeply embedded, "headless" systems and devices which do not require any graphics output.
Historically, one of the main reasons for implementing x86 technologies into embedded systems was their high multi-purpose computing performance and network connectivity. As embedded computing technology has become more and more prevalent, sophisticated graphics capabilities for human machine interfaces (HMIs) in many different vertical markets have also dramatically gained significance. The combination of these two factors, the high multi-purpose computing power and the graphics capabilities, are paving the way for the extensive and growing success of x86 technology in embedded applications.
With the ongoing improvements in CPU performance, x86 processor technology has also proven successful and moved into areas where no graphics interface is required, such as high performance rack systems and backplane systems as used in AT/ISA 96 systems, VME or CompactPCI systems and ATCA, MicroTCA and VPX systems. Since graphics performance is not required, vendors have often implemented server-class chipsets into these systems.
In recent years, the low power embedded segment and dedicated-use systems have also been designed around x86 technology. This has been made possible by the ever increasing performance-per-watt ratio and dramatically reduced footprint of new embedded x86 platforms, which now easily fit into very small designs and can meet the typical physical constraints of deeply embedded devices. Thus, x86 processor technology is now in a position to move more and more deeply into applications and segments where other processor technologies have dominated in the past. x86 technology is now set up to benefit headless system designs which have no need for a graphics interface for displays.
Headless Applications for Small Form Factor Embedded Devices
One example is the industrial automation sector where in the past, conventional hardware-decoded programmable logic controllers (PLCs) in the process level dominated. These devices usually provide no direct graphics functionality for the user interface. They are often connected to sensors and actuators such as motion control or distributed conveyor sensors and many other industrial applications. In this area, x86-based soft PLCs can now deliver, together with the connectivity via the always-on grid of connected devices, a value that can best be described by the terms "openness" and "user comfort".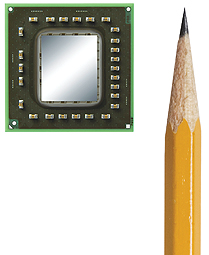 The ability to access these deeply embedded devices via web browsers, for example, makes it possible to remotely configure and monitor decentralized processes over an entire factory from anywhere in the world.
When OEMs use an x86 technology platform for these devices, they benefit from the extensive x86 ecosystem of software, tools, and compilers.
There are further efficiencies based on the familiarity that so many designers and developers have with x86. System integrators can leverage unified and seamless communication and networking infrastructure across the entire shop floor up to the IT network, including the embedded systems in the field. Being able to deploy unified technology across the entire infrastructure can bring unique advantages in terms of cost and reliability.
These enhancements open the possibilities to move even more deeply down the stack to sensors and actuators.
Downsizing is the Key
Until now, this has been somewhat of a dilemma for x86 processor platforms: the smaller they became, the more functionality they integrated. This is especially true as the graphics unit, usually the second most energy-demanding component after the CPU, moved from the chipset into a single unit with the processor, enabling space-saving and highly power-efficient two chip solutions instead of the former triumvirate of CPU, northbridge, and southbridge. Yet, despite the high integration of functionalities into the processor and the small form factor trend spurred by this integration, x86 technologies have still often been viewed as "oversized" for deeply embedded headless applications. This perception has persisted, even considering the fact that the x86 platform can now be an ideal fit with its low power consumption, small form factor and proven technologies used in millions of standard consumer devices and the extremely wide ecosystem of software and development tools.
Consequently, to better pave the way for designers to take advantage of the benefits of x86 for deeply embedded applications, the ideal step would be to eliminate the overhead functionalities which are not required by excluding them from the processor's die. This is exactly what AMD has now done with its AMD Embedded G-Series processor. Following the recently launched AMD Embedded APUs in January 2011, at the Embedded World trade show AMD presented three new CPUs for the AMD Embedded G-Series, all based on the eagerly-awaited "Bobcat" core. These new CPUs are specifically offered for headless implementations, where there is no need for graphics or direct user input and these new variants of the AMD Embedded G-Series platform deliver amazing x86 CPU functionality.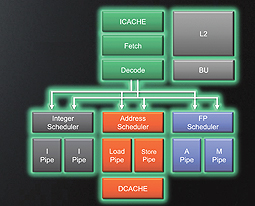 As with the standard APUs, the headless system variants of the AMD Embedded G-Series feature exceptional power efficiency and a feature set that is optimized to the needs of a large range of embedded systems. With three performance classes from the 800 MHz single-core processor T24L up to the 1.4 GHz dual core T48L, the 64-bit multi-purpose x86 processing performance can be adjusted to suit the application. The CPUs feature a maximum thermal design power (TDP) of just 5 to 18 watts. Furthermore, these new CPUs also include a variety of critical system elements including memory controllers, I/O controllers and bus interfaces. All this processing power comes in a very small BGA package that enables fanless designs and 4-layer printed circuit boards.
A Scalable Platform for Nearly All Applications
With the new AMD Embedded G-Series CPUs, engineers can develop their embedded devices with new levels of power efficiency and can recognize more cost-effectiveness with optimized x86 platforms. Now, there is no need to change the basic technology platform that so many designers and engineers are familiar with in order to move more deeply into embedded appliances.
These benefits make the AMD Embedded G-Series platform – whether it's the CPU or the APU – an ideal choice for a wide range of applications in the converging embedded markets. On the one hand, this new technology serves embedded applications in the consumer electronics (CE) area, smart residential gateways, storage appliances and NAS servers, and other network-connected devices. On the other hand, the highly scalable platform also serves deeply embedded applications which require exceptional overall performance on a small form factor and fanless design in combination with long-term availability. These designs can be found in many industrial markets such as automation, transportation, distributed smart grid data boxes, rugged firewalls, M2M and hundreds of other small boxes required for control applications or to collect and distribute data.
Plus, a further fact is convincing: because both the CPU and APU technology is based on the same AMD Embedded G-Series platform, hardware platform vendors can find it very easy to switch their designs between the APUs and the CPU. They are thus able to offer both advantages with only a slight redesign of their full custom designs or board-level products such as Computer-on-Modules, single board computers, and motherboards. Thus the broad ecosystem developed for standard low power x86 devices can also be extended for usage in even more specialized embedded devices.
Innovative Small Form Factor Designs
Owing to continuous improvements in processor design, the AMD Embedded G-Series platform has become more compact and power-optimized. The integration of the APU device reduces the footprint of a traditional three-chip platform to two chips. The APU and its companion controller hub simplify the design, as fewer board layers and a smaller power supply are required. With a 48% area efficiency improvement compared to the previous platform generations, the small footprint and low power consumption help reduce overall system costs and enable fan-less ultra-mobile devices to run longer between battery charges.
Minimized Product Life Cycle Costs
With an array of performance options, ranging from a 1.2 GHz single-core APU up to the 1.6 GHz dual-core variants, the AMD Embedded G-Series platform enables OEMs to utilize single board designs for the whole span of embedded systems – from entry-level up to high-end solutions.
Thus a single platform can be the basis for a host of product variants, for example a product family of box PCs with SKUs ranging from low-power up to high-performance versions. And if a new system based on this platform has already been developed, the reusability factor for new designs is tremendous because the processor's high scalability covers the great majority of today's x86 performance requirements in most embedded markets. Due to the common denominators of scalable platform design, the supply chain is simplified and operational complexity is minimized along with those associated costs, helping to drive better platform economics for the OEM. Furthermore the AMD Embedded lifecycles help to ensure the long-term availability of the platform which is essential, especially for the non-CE embedded computing markets.
Conclusion
Both the AMD Embedded G-Series APUs and the CPUs for headless designs provide embedded customers with a complete and scalable platform with long-term support. This helps to speed up design work and development cycles and therefore helps shorten the time-to-market for applications that can offer an outstanding performance-per-watt ratio. The ideal applications for this platform cover a broad range – they rely on impressive visual experience while maintaining very low power consumption or require an exceptional high parallel processing power or they are focused an optimized feature set and highly efficient CPU performance for deeply embedded systems. With all the benefits available on a extremely compact footprint, it is not surprising that parallel to the launch of the new AMD Embedded G-Series platform, several embedded hardware manufacturers, including Compulab, Congatec, Fujitsu and Kontron, have already announced products with the world's first APU for embedded systems on a broad range of form factors that can be also easily switched to headless variants. This can be done far more easily compared to previous platforms, since all designs have the same controller hub. With the introduction of one of the most competitive technologies to date, AMD's new APU technology is a compelling solution which is not only suitable for the majority of applications in the entire embedded market, but also, and excitingly so, has the potential to revolutionize the embedded computing market itself.
Thus, OEMs should consider evaluating this new technology in their endeavor to fulfill customers' demands for a vivid user experience and massive data throughputs in all offered performance classes.

Author:
Aurelius Wosylus, Regional Sales Manager Europe, AMD GmbH – Embedded Business Unit
www.amd.com