Microchip announces the expansion of its instrumentation amplifier portfolio with the new zero-drift MCP6N16. This self-correcting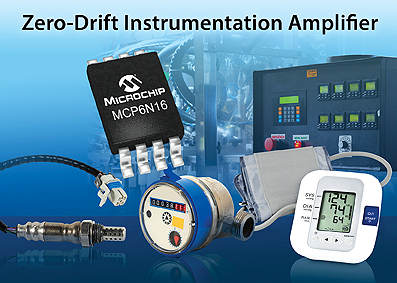 architecture maximises DC performance by enabling ultra-low offset, low offset drift, and superior common-mode and power-supply rejection, while eliminating the adverse effects of 1/f noise. The result is very high accuracy across both time and temperature.
The MCP6N16's low-power CMOS process technology enables low power consumption whilst still providing 500 kHz bandwidth, and it features a hardware-enable pin for even more power savings. This low-power operation and shutdown capability requires less current for the given speed and performance, which extends battery life and leads to less self-heating. In addition, the amplifier's low, 1.8V operation allows two dry-cell, 1.5V batteries to be drained well beyond typical use, and its rail-to-rail input and output operation enables full-range use, even in low-supply conditions. This provides better performance across the entire operating-voltage range.
The MCP6N16 instrumentation amp is ideal for applications that require a combination of high performance and precision, low power consumption, and low-voltage operation. Examples include sensor interfaces, signal conditioning, and stationary and portable instrumentation, for the medical, consumer and industrial markets.
The Zero-Drift MCP6N16 Instrumentation Amplifier is available today for samples and volume production, in 8-pin MSOP and 3×3 mm DFN packages.
Key Facts:
• MCP6N16 maximises DC performance with very high accuracy across time and temperature
• Achieves ultra-low offset, low offset drift, superior common-mode and power-supply rejection and zero 1/f noise
• Combines 500 kHz bandwidth with reduced current consumption for a given speed and performance for longer battery life
Microchip Technology
www.microchip.com/get/PB60