Murata announced they have commenced mass production of, what they believe, to be the smallest and lightest surface mount piezoelectric sounder available.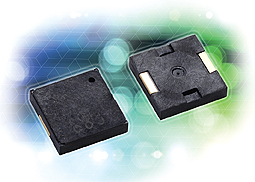 Occupying significantly less surface area, and with a combined weight and area reduction of 44% compared to previous Murata products, the PKMCS0909E4000-R1 measures just 9 × 9 × 1.7mm and weighs only 160mg. Sound pressure level output, measured 10 cm from sounder, is better than 65dB when driven with a ±1.5V 4kHz square wave.
Maximum peak-to-peak voltage is ±12.5V. Power consumption is typically 0.6mW, which helps preserve battery life in power budget constrained consumer electronic devices. Since the sounder does not use any magnets or coils to create sound it doesn't generate any electrical noise and therefore has minimum impact on surrounding circuitry.
Typical applications for the PKMCS0909E4000-R1 include blood glucose meters, personal thermometers, camera strobe flash and Bluetooth dongles.
Murata
www.murata.eu