Murata announced the ZRB series of monolithic ceramic capacitors (MLCC) packaged on an interposer substrate designed specifically to reduce acoustic "squealing" noise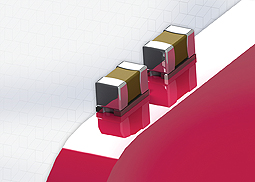 typically induced by mechanical vibration of the capacitor. Available in the same size as conventional MLCCs, the ZRB is available in EIA 0402 (1.0 × 0.05mm) and EIA 0603 (1.6 × 0.8mm) package formats with working voltages of 6.3, 10, 16 and 25 VDC, With this approach, the ZRB becomes an ideal replacement part to update an end-application design without the need for modification of the PCB layout.
This form of acoustic noise has become of concern for the electronics industry and effects many types of consumer electronics devices such as laptops, tablets and smartphones. The PCB can amplify the audio noise generated by the capacitor, so by using an interposer substrate the MLCC becomes mechanically isolated from the PCB. Reduction in audio noise can be achieved against a traditionally designed MLCC.
Murata
www.murata.eu