International Rectifier has expanded its portfolio of 60V StrongIRFET™ power MOSFETs available in various standard and performance power packages. The new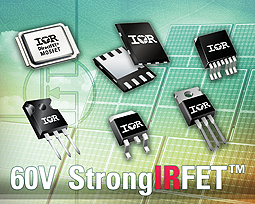 MOSFETs, which feature ultra-low on-state resistance (Rds(on)), are designed for a wide range of industrial applications including power tools, Light Electric Vehicle (LEV) inverters, DC motor drives, Li-Ion battery pack protection, and Switched Mode Power Supply (SMPS) secondary-side synchronous rectification.
Available in through-hole and surface mount packages, the expanded 60V StrongIRFET™ family includes the IRF7580M. Housed in a low profile, ultra-compact Medium Can (ME) DirectFET® package that delivers high current density while reducing overall system size and cost, the IRF7580M is well suited for space constrained high power industrial designs.
The family of 19 60V StrongIRFET™ power MOSFETs offers ultra-low on-state resistance (Rds(on)) for improved performance in low frequency applications, very high-current carrying capability, soft body diode, and 3V typical threshold voltage to improve noise immunity. Each device in the family is 100% avalanche tested at industry highest avalanche current levels to ensure the most robust solution for demanding industrial applications.
International Rectifier
www.irf.com